Return to Headlines
A Chess Coach's Narrative by Angela Flounory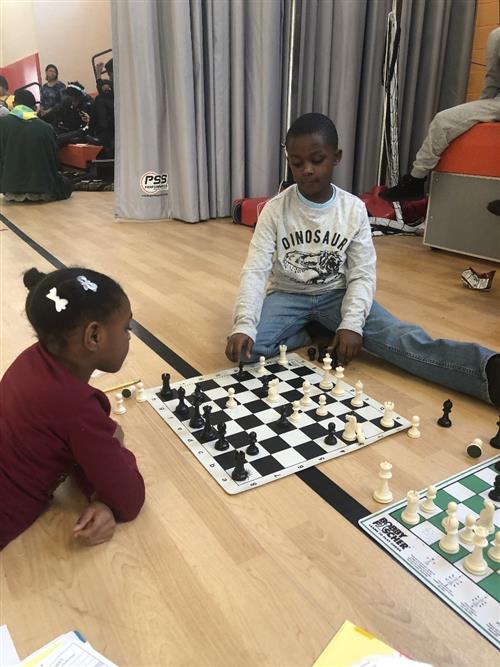 This is my 2nd year coaching the chess team at Vernor Elementary. Overall, it has been a wonderful experience. Last year, I was inspired by the commitment of the team players. Few missed chess practices and they would exclaim with joy when they saw each other at the Saturday morning tournaments.
Even with the quarantine last spring, members of the chess team stayed connected by playing slow games on Chesskid.com. Also, during this time the chess grandparents and parents collaborated to have our Vernor Kings & Queens t-shirts made to be sure that we would be properly identified at tournaments in the future. This was important to all of us.
Prior to coaching, I used chess in the classroom for years just to create a setting for positive social interactions between students, or to give students who had completed their work, a quiet activity. That would sometimes backfire when there was a discrepancy about how the knight moved. Back then, I was a fair player. My strategy was to teach two or three students, then I used them to assist me with teaching other students. I could pair students up and they could play as a team which was beneficial for developing social and relationship skills. I took advantage of any non-instructional time to introduce the game of chess, like before and after school, during lunchtime or recess. I also had visual images around the room to reinforce the rules of the game.
In terms of organizing our chess team at Vernor Elementary, I began by fostering support from the school Principal. But I was also building a chess culture in my classroom. I incorporated chess into the math lesson on Fridays and there was a chess corner with a board always set up. Two of our class norms included: Always reset the chess board after a game; and Do not bother the chess pieces if a game is in progress.
Having the support of the Superintendent and my Principal made a dramatic difference in organizing a chess team. Students were able to receive chess boards, notation books, and memberships for the United States Chess Federation. The support of my principal was invaluable for recruiting. I could disseminate information easily throughout the school. Also, the chess team was acknowledged in morning announcements and on the school's social media and website which was encouraged the team.
Coaching Through A Pandemic
Of course, having to rely on virtual platforms this school year has been an adjustment. But because I was using virtual platforms last year to communicate with parents and students on ClassDojo and for practice on ChessKid.com, the students have had no problem making the transition. With ClassDojo, it was easy to reconnect with last year's players. I was touched when nine days after school started, I received a message from Hope Turner, a team player asking about when chess practice begins.
I strongly encourage teachers to incorporate chess into the classroom culture. For one, it is a fun game! The rigor of the game encourages students to be competitive. I have observed the benefits of playing chess for students, such as build confidence, improve problem solving skills, and improve self- control. As a teacher, it assists me in connecting and learning about my students. Studies indicate that strong teacher-student, or coach-student relationships are associated with every measure schools care about: higher student engagement, attendance, grades, and fewer disruptive behaviors.
Despite the changes, I look forward to the 2020/2021 Chess Season. The enthusiasm of the chess team is motivation enough to win. Check. #Checkmate.