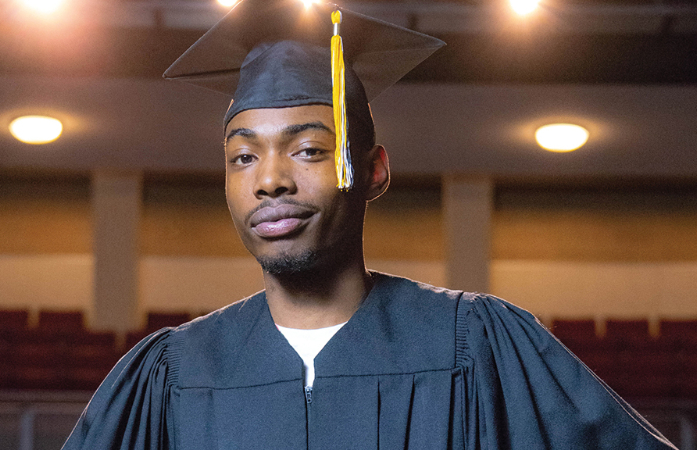 Dual Enrollment
Overview

Dual enrollment is a program that allows high school students (usually sophomores, juniors, and seniors) to enroll in college courses for credit prior to high school graduation.

Students participating in Dual Enrollment will take courses offered by colleges and universities who have fully executed memorandums of understanding (MOUs) with the District. Many of the courses offered through Dual Enrollment are transferable to other institutions. However, some courses may only be recognized by the institution offering the course. Courses are often delivered on campus at one of the District's high schools.

Students benefit from taking Dual Enrollment courses both by earning college level credit and also by the opportunity to engage in rigorous post-secondary content and expectations to prepare them for college and a career.

Dual Enrollment Student Guidelines

Students must complete a dual enrollment application

and/or be

placed in the course based on eligibility and placement by a school guidance counselor with principal approval.

Students may only enroll in three classes (6-9 credit hours) per semester

.

The District will provide

books required for classes

through fees paid to the partner organization

.

Students must return books to

the District

at the end of the semester

.

Unless part of a special program, transportation will not be provided by the District.

Student Eligibility – 388.513(1)(f)

Students

must

be

enrolled in at least one high school class in

Detroit Public Schools Community District.

Students

must have at least one parent or legal guardian that is a resident of Michigan (unless the student

is experiencing homelessness).

Student

s

must not have been enrolled in high school for more than four school years

.

Students can qualify for dual enrollment by taking one of the following assessments: PSAT,

SAT

, or MME. This

table

shows the complete list of scores that help to qualify students for dual enrollment.

Excludes foreign exchange pupils enrolled under a cultural exchange program (J-1 Visa).

Eligible Postsecondary Institution – 388.513(1)(e)

A state university, community college, or independent nonprofit degree-granting college or university that

is located in

this state and that chooses to comply with the Postsecondary Enrollment Options Act and has a fully executed memorandum of understanding with the District.

Course Limits:

Students in grades 9 through 12 may take up to ten postsecondary courses.

For a student that first dual enrolls in:

9th grade – not more than two courses per year in 9th, 10th, and 11th grade, and not more than four courses in grade 12

10th grade – not more than two courses in 10th grade, and not more than four courses in 11th and 12th grade

11th or 12th grade – not more than six courses per year

Dual Enrollment Process

Student meets with a counselor and/or principal to discuss eligibility and other aspects of the Postsecondary Enrollment Options Act.

Student

receives a letter signed

by the principal indicating eligibility to dual enroll.

Student enrolls in eligible course(s) with postsecondary institution.

Courses are added to

student's

schedule in the

student information system.

Grades

Partner organizations will provide grades to students within 5 days

of the end of each semester in

sufficient

time

for the District to meet required state guidelines for grade reporting. The District is responsible for recording grades

for all Dual Enrollment coursework

, including grades for individual assignments and final grades

.

Dual Enrollment instructors will provide student's progress reports no less than every two weeks.

Available Courses

The District currently has MOUs with:

Lawrence Tech University

Wayne State University

Henry Ford

College

Detroit Mercy

University

Wayne County Community College

Courses are offered by these institutions in designated high schools. Courses are based on availability of instructors and alignment of programs and vary from semester to semester. Colleges and Universities shall provide the District with an academic catalog with the courses available prior to the start of the semester in which the course shall be offered. Partner organizations will also hold orientation sessions for dual enrolled students prior to the start of classes. District high schools will maintain a list of available courses. The number of courses and students each year will also be subject to the District's available funding.
Contact Information
Office of Dual Enrollment, Advanced Placement, and International Baccalaureate

16164 Asbury Park
2nd Floor
Detroit, MI 48235

Dr. Theresa Lindsey
Assistant Director
theresa.lindsey@detroitk12.org