Return to Headlines
Spotlighting Bates Academy Chess Team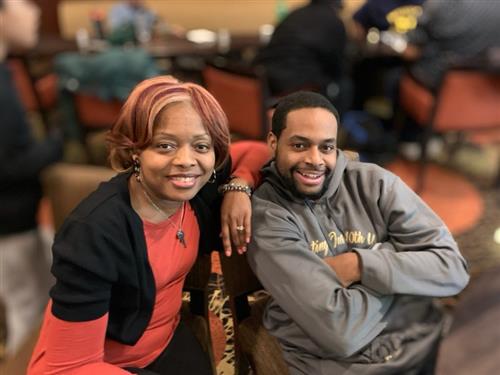 How long have you been coaching chess at Bates?
Ursula Boyd (UB): I am in my 14 year of coaching at Bates.
How long have you been coaching at Bates? How long have you been coaching overall?
Robert Ellis (RE): Currently, it's my 2nd year. I also coached Bates for one year back in 2010. Overall, I have been coaching for over 10 years.
Coach Byrd, many people know you as the current music teacher at FLICS and the former long-term music teacher at Gompers, how did you become the chess coach Bates Academy?
UB: I was the vocal music teacher a Bates Academy for 8 years. During that time, I began assisting Coach Seltman Hayes with the program. There were a lot of students that were interested in chess as well as my oldest son. So, I thought at the time, this would be my way of giving back to our school community and support the afterschool programs. This occurred shortly after Mr. Harold Steen had retired as Chess coach.
Coach Byrd, not long after the late great legendary chess coach from Bates, Harold Steen retired, you took over the coaching helms at Bates. Coach Steen was considered the godfather of Detroit chess for years. He was inducted into two Hall of Fame programs, Detroit City Chess Club and the Michigan Chess Association. Did you personally know Coach Harold Steen? Did you ever feel pressure following a Hall of Fame coach like Coach Steen?
UB: I met him my first year at Bates Academy. He was in the art room holding chess practice after school...very kind and quiet...in my eyes. I later ran into him in the school office. He was coming in to show the trophies that the team had won from a tournament. I said to myself this is exciting, and I wanted my son, Jeremiah, to play.
I will say, at first I did not know the brevity of his reach in the chess community, let alone the state until I became more involved in the Detroit Metro Scholastic Chess League tournaments. I think almost every time we, the chess team, walked into the halls of Central High School (where city tournaments were played back then), I felt like all eyes were on Bates. I tried to put it out of my mind. But I soon realized that we had some rich legacy in the foundation that Mr. Steen had laid before us.
Coach Ellis, you coached at Bates several years ago with Coach Byrd before becoming a head coach at another school? How does it feel being back at Bates Academy teaming up with Coach Byrd again?
RE: I am glad to be back. I love it. I think we make a good team. Coach Byrd is like "my other half" in the chess world. It feels good to be back in the halls of Bates Academy.
Bates is the current 2020 State Chess Champions from last year's State competition. I'm sure you both had big hopes for winning the National Chess Championship in 2020 that was cancelled, how did that impact you and your students?
UB: I don't think disappointment is a word that could fit this scenario. We were riding the wave...all of the hard work that the scholars had put in as a Chess Team was about to pay off big...then the bottom was pulled from under us. No one could have ever imagined that a Pandemic was on our horizon. We all took this change hard.
RE: It really crushed me, hurt me a lot because I know that the team really wanted that national title because they practiced hard and showed a lot of grit throughout the year. They really wanted it and had everything it took to win a national title. The look on their faces when told they weren't going to compete in nationals was devastating.
Last year's Bates chess team was very strong; do you have most of your team returning? If so, how is their morale?
UB: Yes, the majority is returning. There are some that matriculated to high school. The morale is not where we would like it to be. But it is better than the early spring of 2020. We are holding virtual practices with the team and encouraging every session to do their best and that they will be successful with hard work. Planning to work and working the plan! As my colleague, Coach Robert, said, virtual reality and face to face reality are totally different.
RE: Yes, the majority is returning. It's not the same, their morale and spirit, because we are now doing virtual practices and they don't have that same passion when we were face to face.
What goals have you and your players set for this year? Please explain?
UB & RE: We want to capture the back to back city champ title as well as the DPSCD champ title this year. We think outside of the box with our training methods through virtual means. We have talked about having extra practices and intensifying their individual study habits.
Please add anything you'd like to mention that we haven't asked or haven't been discussed.
UB & RE: This has been a challenging year with COVID-19 and the pandemic, but our players are resilient. They are being supported by their parents, the teachers, and peers. We are pulling together in the Bates Community to make the best out of a situation that we cannot control. We are also thankful to our Principal, Mr. David Bailey, and the DPSCD leadership for ensuring that we have ways to continue our extra-curricular activities for our students. The support goes a long way and we appreciate it. I am just thankful that I can coach a group of scholars over the years that have become dynamic adults and are giving back to our students today.