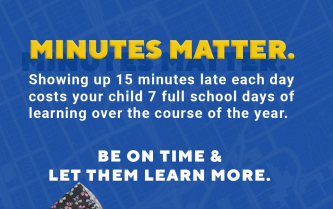 Attendance
Why is attendance so important?

One of the most important things you can do as a student to achieve success is to go to school every day. The benefits of having social interactions with your peers and learning different subjects in school will help you develop skills that benefit you for the rest of your life. By attending class regularly, you are more likely to keep up with the daily lessons and assignments and take quizzes and tests on time. Other reasons you should attend school each day include:

Active Participation: Students are responsible for attending all classes. Attendance fosters connections with peers, teachers, and the community, keeping you engaged and involved.

Classroom Time Management: Being present in school ensures you receive the necessary lessons to maintain your progress and focus.

Language Exposure Benefits: Regular attendance exposes you to language-rich surroundings, enhancing your abilities in reading, writing, and everyday communication.

Pathway to Achievement: Consistent daily attendance stands as a significant indicator of an individual's enduring success.

Preparedness for Careers Beyond High School: Even starting from elementary school, attending classes predicts your enrollment in and commitment to college and trade school.

Attendance Defined

School Attendance - Students are required to attend all classes. This includes hourly, morning, and afternoon class sessions. Additionally, students who participate in school-approved activities such as field trips or assemblies will be counted.

Class Attendance - You are counted as present only when you are physically in class for at least half of the period, have been excused by your teacher to participate in a class assignment, or have been requested by someone on your school support team like a counselor or principal.

Tardiness - You are considered tardy if you are not present the moment the school bell rings for your assigned class. If you are not present when attendance is taken, you may be marked absent, so be sure to have your teacher make the change in your record.

Early Sign-Outs – Early release is discouraged within the final thirty (30) minutes of your school day. If a parent or guardian needs to sign you out, they should visit your school's main office.

Notifications: If you are going to be absent, you should have your parent/guardian write a letter stating the cause for the absence and the reasons it should be excused. This is important because if you have a prolonged absence or tardiness record, your teachers and attendance agents are required to check on your wellness. See the table below to learn about our methods.