Behind the Scenes: The DPSCD Internship Experience
Return to Headlines
Full Circle: DPSCD's Impact on My Life
By: Charlo Sade Jarmons, DPSCD Communications Intern Fall 2019
When I first stepped foot into my senior year at Wayne State University, I never imagined how much my life could quickly change in four months. Recently, I earned my Bachelor of Arts in journalism and during this journey I started an internship with Detroit Public Schools Community District (DPSCD) in their communication and marketing department. I was extremely nervous and excited about the internship, but I held my head high and walked into the Fisher Building to embark on this journey. I agreed to start my internship the first week of the district's classes and end on their last day of classes so I could get a complete scope of DPSCD and the work it took to successfully complete the first portion of a school year.
While coming into the office every Thursday and Friday I was always greeted with kindness, respect and warmth. One quality DPSCD always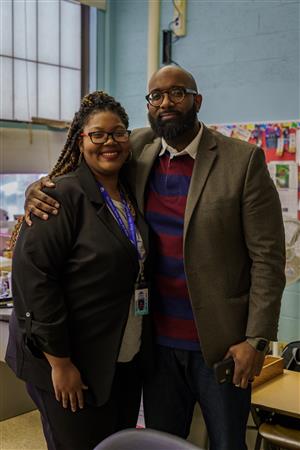 possessed was being able to make alumni feel like family, beyond graduation well into adulthood. As I was presented with different assignments such as creating web content for different social media channels, public relations, event planning and on-site reporting, I was able to create stories based upon different events I attended and add these to my growing portfolio. The event that began my full circle moment was #RiseUpDay2019. The district-wide professional development day that teachers and staff attend to celebrate being educators led me to seeing some of my most influential teachers from high school. I attended Cass Technical High School from 2008-2012 where my curriculum was music, and I participated in Madrigals and Concert Choir.
As #RiseUpDay2019 began I saw Cass Tech march in and so many happy memories began to pop into my head. I saw my 10th grade music theory teacher Ms. Allen leading the All-City Marching Band, my 11th grade math teacher Mr. Hunter and one of the most impactful English teachers I ever experienced, Lauralyn Taylor. Seeing Ms. Taylor triggered me emotionally because I could vividly remember the impact she had on my entire life, and how we stayed in contact via social media beyond the years of my graduation. As we began to talk, I knew this moment needed to be dissected by me and could possibly lead to an even bigger full circle moment down the line.
I was given the final task in my internship to write about the impact teachers and DPSCD has blessed my life with. During this time, I sat down with two of my teachers from high school who are both still educators with DPSCD. Quan Neloms is currently working as a guidance counselor for Bow Elementary-Middle School and is an ambassador for Teach 313. I also reached out to Lauralyn Taylor who is currently teaching English at Cass Technical High School where she continues to oversee the yearbook and sponsors the High School Democrats of America club. I've had several instructors throughout my educational career who drastically impacted me, but these two had a lasting impression on my life inside the classroom and outside the classroom.
While visiting Mr. Neloms we had a conversation about impact and full circle moments. During this conversation tears were shed, and my first full circle moment was happening right before my eyes. I started my interview by asking Mr. Neloms what kind of student I was. He stated that "you and your cohort were very engaged and accommodating, you guys were my first set of high school students and you made my first high school experience very encouraging." Hearing those words stunned me as well as humbled me. I was stunned because from the confidence Mr. Neloms had with us in the classroom I never thought we were the first set of high school students he taught.
My cohort and I enjoyed every second of his class because he set aside our textbook or "tool" as Neloms would say and taught us the US History we vaguely learned in grade school. Our classroom was a space where we could learn with music by Lauryn Hill, and lessons designed to enrich our brains with our culture and our history as African American teenagers. That one classroom helped me feel connected to myself as a young African American woman and being raised in a single parent home I had a male role model to look up to and learn lessons from. During our interview Neloms also told me that "schools belong to the community and when you have schools and community working together it's a phenomenal experience for students, it really drove the road I wanted to be on as a teacher." Mr.Neloms is also an ambassador for Teach313 where he helps recruit teachers, and find ways to increase teacher longevity. Feeling safe was a huge factor of my full circle moments in education and another teacher who also created a safe space conducive to learning was Ms. Lauralyn Taylor.
Ms. Taylor who I also like to call "Ms. Tay Tay" since personally connecting with her, was one of the reasons I studied journalism at Wayne State University. I remember some days entering Cass Tech sad, or just emotionally drained, but I was always excited when fourth hour approached, and the bell rung for English to begin. I felt so excited to learn in Ms. Taylor's class because her and I connected. Ms. Taylor was always an open book with me and my classmates, always willing to share a part of herself with us to fully connect the lesson at hand with our lives in some way. When I stepped foot into Cass Tech so many old feelings and anxiety reached my body but as soon as I saw Ms. Taylor all tensions subsided, and I knew the interview would go well.
Like my first interview with Mr. Neloms, I asked Ms. Taylor if she could recall the kind of student I was. When asked that question, she referred to me as "fire." While going into detail Ms. Taylor proudly explained "You were fire, you came in as light and energy every single day in class and just like fire you put out heat and passion and energy." Those words were very eye-opening because as a young woman in high school I never saw myself in that light, I was simply coming to school to learn and grow, but to be referred to as fire was a very nice sentiment. When I asked Ms. Taylor if she knew the influence of her impact she brought to my life, her face lit up with proud. She touched on the importance of give and take in the classroom and how that can cause a lasting impact on students. " It's about finding out where you are mentally so you can get that lesson, so if I notice Charlo has her head down in class I'm asking why instead of greeting her with disrespect, and now we have reciprocity in the classroom". That reciprocity led me to wanting to research and write and format papers correctly because I knew she cared for me not only as a teacher but a woman who wanted to see the true fire in me burn the world up.
As I wrap up my last few days with the DPSCD Communications and Marketing department, I truly can say I have completed my first journey in education and life and this circle is now full. I am now 25 years old, old enough to understand the lasting impact teachers around the world have. There is a special kind of resilience, love and care that DPSCD's teachers have for the students and community. This department itself has been a family to me, where each person on the team has personally taught me something that I can use in my life of journalism, from how to properly copy edit, to using sprout social to monitor data analytics to the pep talks given just to keep me balanced, I say thank you. Education has been a huge factor in my life and as an African American woman I value a lot of what my ancestors did not have the access too and this full circle moment will be one of the most inspiring moments of my life. This internship was more than a three-credit course to me, it was a life changing experience full of connections and moments that were all meant to be.