Behind the Scenes: The DPSCD Internship Experience
Return to Headlines
Playing My Part in the Rise of DPSCD Students
The opportunity to play my part in the rise of Detroit Public Schools Community District (DPSCD) students granted me a new sense of joy that changed my summer. As a rising senior at Xavier University in New Orleans, it feels as if it was only yesterday when I was a middle school student skipping in the hallways of DPSCD's Bates Academy. Fast forward years later, I am working as a summer intern for the school district's department of communications and marketing!
As a college student, the pressure to steer your career path in the right direction can be frightening. Nevertheless, working at my hometown's school district I have found a sense of purpose in my tasks and responsibilities that has given me insight about my own future.
During my internship, I had the opportunity to interview teachers, promote media campaigns, create web posts and write stories, observe board meetings, and more! DPSCD is not only an instrumental part of my childhood, it's also impacting my future as a college student by granting me hands-on experience in a professional workspace. Permitting yourself to shine in a new workspace can be challenging but the support I feel from my coworkers encourages me to step out of comfort zone, share my ideas, and actively collaborate on projects.
DPSCD's office of communications and marketing works as a well-connected team. I've had the pleasure of becoming an extended team member that strives towards creating an innovative, safe, and influential community for Detroit students to thrive in academically. DPSCD set my academic career in motion and thanks to them, it's still on the rise!
---
About the author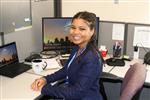 Naomi Hill is a rising senior at Xavier University in New Orleans studying mass communication with a double concentration in professional and creative writing. She was born and raised in Detroit and proudly represents her hometown wherever life takes her. In her spare time, Naomi writes blogs about modern art, music, African American culture, and films. Following graduation, she aspires to attend law school to magnify black female representation in legal practice.