Return to Headlines
DPSCD SY 22-23 First Day/First Week Resource Cheat Sheet  
Welcome back to school families and students! Monday, August 29, 2022, is the first day back to school and we are excited to see you. Teachers, staff, school leaders, administrators, and the Detroit Public Schools Community District (DPSCD) community are prepared to carry out our core values and strategic plan priorities. Based on your feedback, we have rounded up a few of the key resources you'll need as you and your child get settled. Have an amazing year and be sure to attend school every day for outstanding achievement! Below is a breakout of many resources you will need and can also find in a one stop location at detroitk12.org/families. Use the translate button on this site to help you in your native language.
Important Dates and Information
Please reference the DPSCD 22-23 School Year Calendar to mark each day your child is in attendance. Also, track important dates, such as Parent Teacher Conferences, Scheduled School Closures and Report Card Dates. To cut down on paper, we have an electronic bulletin board, Peachjar, that allows you to view and share flyers through text and email information for the district and your child's school(s).
Transportation
The Office of Student Transportation has mailed postcards to students scheduled to receive transportation services for the 2022-23 school year. The postcards may have already arrived or will be arriving soon. If you haven't received a postcard and would like to obtain your child's transportation information, please call 313-945-8600, starting Monday, Aug. 29, from 6 a.m.-6 p.m. Again, the phone number is 313-945-8600, Monday-Friday during the school year to reach the Office of Student Transportation.
As you might expect, the Student Transportation team anticipates higher than normal call volumes and wait times the first week of school, so please be patient and your call will be answered. We look forward to seeing your child at the bus stop on the first day of school.
How to Enroll
Office of Enrollment: You can still enroll your child even after the school year is underway. To help you find the right fit school for your student, read the Picking the Perfect School Guide, which provides a wealth of information on DPSCD schools and programming.
Curriculum & Instruction: Reading, Writing, Mathematics, Science and Social Studies
Office of Curriculum and Instruction: The Office of Curriculum and Instruction is also known as C & I, provides the academic infrastructure for our students and teachers. This department leads district-wide initiatives including curriculum adoptions and guide development to ensure our students will thrive. Click the hyperlink to see how your child can benefit from DPSCD's Core Curriculum offerings, Initiatives and Programs led by the C & I team.
Gifted and Exceptional Students
Office of Exceptional Student Education (ESE): The Office of Exceptional Student Education (ESE) includes a full range of exceptionalities servicing approximately 8,000 students with an active individualized education plan (IEP) as well as Gifted and Talented Education (GATE). Detroit Public Schools Community District offers one of the most robust continuums of specialized programs and services found in the state of Michigan.
Family and Community Engagement Supports Families and Students
DPSCD's Office of Family and Community Engagement (FACE) works hard to advocate for families and students throughout the districts 106 schools. FACE oversees PTA, the Parent Academy, Student Leadership Program, Homeless resources, volunteers and more.
Click the link to sign up for the Parent Academy free workshops and view the catalog.
Sign up to be a volunteer today. Whether through the Let's Read initiative, door to door canvassing or other programs, the District invites you to consider ways that you can contribute to our students' rise. In accordance with DPSCD policy, all volunteers must submit or renew their volunteer status through the galaxy volunteer process.
If you have questions or need further assistance, please contact the FACE office at (313) 873-7490.
Public Safety
For the 2022-23 school year, we are encouraging all adults to foster deeper relationships with students. Please encourage students to share anything that signals safety problems. Please speak to your child about the code of conduct. Speak to your child's school to learn about important safety updates. To contact DPSCD Public Safety by phone, please call (313) 748-6000. If it is an emergency and not school related, please dial 911.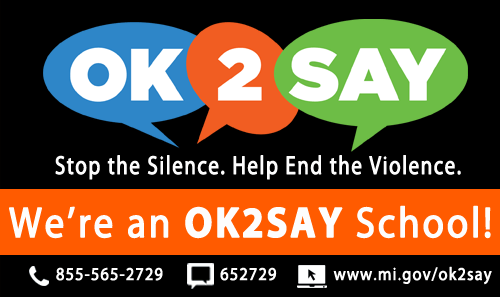 Health and Wellness
Office of School Health and Wellness: Led by our Office of School Health and Wellness, DPSCD has nurses in every school; school-based health centers as well as providing childhood immunizations. Please also find resources for mental and behavioral health.
Behavioral and Mental Health
All families are encouraged to participate in the universal behavioral health assessment for every student in 3rd-12th grades. This researched based tool examines and measures child adverse experiences such as the passing of a loved one, witnessing of violent behavior or other traumatic circumstances and based on the survey results, trained professional partners will recommend if a child can receive more one-on-one or small group mental health support at school. Please note, for a student to receive individualized therapy, families will need to complete a consent form for the process to move forward. You can get more information on this by contacting your school directly.
In addition, in conjunction with the Detroit Wayne Integrated Health Network (DWIHN), families have access to an array of mental health services that includes a 24-hour helpline (1-800-241-4949). More information on the services available through DWIHN can be found by clicking here.
Office of School Nutrition (OSN) Nourishes Students
To maintain the District's status in the Community Eligibility Provision (CEP) that is part of the National School Lunch and School Breakfast Programs, parents and guardians must fill out and sign the Household Information Report form, (formerly known as the S4 form). This form is critical in determining the amount of money that your child's school receives from a variety of State and Federal supplemental programs.
You can find the form on the OSN home page. If you need further assistance, please contact OSN at (313) 578 –7220.
DPSCD Sports
Office of Athletics: DPSCD's Office of Athletics administers K-12 athletic competition within the Detroit Public School League (PSL) and Michigan High School Athletic Association (MHSAA) policies and procedures. DPSCD continues to expand its athletic programming with new offerings for K-8 sports; it also provides our student-athletes with a well-rounded experience, possible scholarship opportunities and enhancement of their physical and social-emotional growth.
In addition to these district wide department web pages, please get familiar with your school's website for important updates and information throughout the 2022-23 school year, our site offers a full directory and profile pages for your information.
Finally, in case you missed it, the new Family Hub page is a one-stop resource where all the information above can be easily found. As you navigate the District's website, please note the translation feature.
For language help call (313) 576-0106 or visit Interpretation and Translation Services. DPSCD does not discriminate on the basis of race, color, national origin, sex, sexual orientation, gender identity, disability, age, religion, height, weight, citizenship, marital or family status, military status, ancestry, genetic information, or any other legally protected category, in its educational programs and activities, including employment and admissions Questions? Concerns? contact the Civil Rights Coordinator at (313) 240-4377 or dpscd.compliance@detroitk12.org or 3011 West Grand Boulevard, 14th Floor, Detroit MI 48202.