Return to Headlines
Excellence is a Family Affair for Western International High School Valedictorian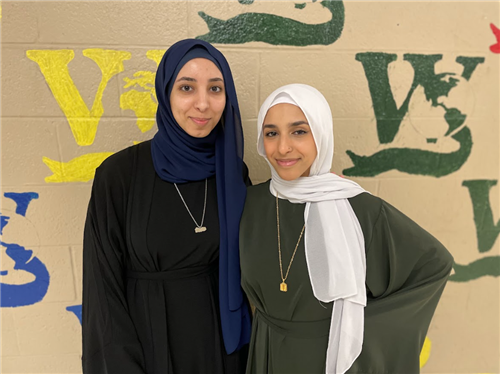 Excellence is a family affair for Western International High School valedictorian Alyamamh Rahimee.
Alyamamh is the second person in her family to hold the title of valedictorian at the high school, with her sister, Ahlam Rahimee, claiming the honor in 2020.
"It's not about the title," Alyamamh said. "But I hope it encourages other people, when they look at me, they say, if she can do it, then I can do it too."
During their high school careers, the sisters completed a combined 17 Advanced Placement (AP) courses, as well as participated in a long list of clubs and activities — including National Honor Society and local social justice organization Girls Making Change. Alyamamh played volleyball and received a Detroit Insitute of Arts award; Aahlam participated in the youth development groups Build On and Future Project.
Western teachers Tara Baker and Mike Cruz said the sisters are determined, driven, and intellectually curious. Their work ethic and drive inspires other students in the classroom to work through challenging subjects and focus on their learning.
"These are really proactive, determined young ladies who are dead serious about getting an education," Baker said. "And I do mean an education, not just A's."
They like to question everything, demonstrating advanced critical thinking skills for their age, Cruz said.
"They have a serious intellectual curiosity. They want to know things."
Ahlam said her sister is always sharing academic and extracurricular opportunities with her friends and classmates as a way to encourage and uplift others.
Alyamamh said by earning her place as school valedictorian, she hopes to inspire others to excel. Achieving valedictorian is more about hard work, perseverance and dedication than your IQ, she said.
"Most of the time, people think (achieving valedictorian) is really hard. You have to be really, really smart," she said. "It's never really about that. It's about, do you care enough? Do you want this as much as you say you do?"

Overcoming Barriers to Education
A quality education was not always a given for the young women. These Arab-American students have roots in Yemen, and although they were born in Detroit, they spent five years in the country in the mid-2010s.
While access to education has improved over the decades, financial, cultural, and geographical barriers to a quality education persist for Yemeni children and girls. Ahlam said there wasn't a good environment for education in Yemen and it wasn't encouraged for young women and girls.
The girls returned to the U.S. in 2016, two years after war broke out. Ahlam was starting eighth grade and was excited to go to school again. Alyamamh had to relearn English in fifth grade and struggled at first in school, but appreciated her education more as she grew up.
"Coming back here was very exciting for me because I was like, 'Oh my God, I can finally go to school.'" Ahlam said. "It was a really important aspect of my life; the only thing I would focus on is pursuing my education. So, I would see it as an opportunity that is great, awesome, that I want to take advantage of, and I want to make the best out of it."
"It just makes you realize the importance of education," Alyamamh added.
In high school, Alyamamh overcame the challenges of virtual school during the pandemic by always showing up to in-person instruction when given the option of attending school. She asked her teachers questions when she needed help and took advantage of their office hours.

Looking to the Future
Alyamamh plans to pursue the pre-medical route at University of Michigan Dearborn in the fall.
Alyamamh and her sister, who will graduate this spring also from University of Michigan Dearborn, want to address barriers to accessing healthcare in their community. They said members of the immigrant community might not be able to afford healthcare, or they might not speak English and there are a lack of translators at medical facilities.
"I love advocating for people. It's really important for me, when I go someplace, I want to see people like me as well," Alyamamh said. "If immigrant parents are seeing someone like them, they feel more comfortable. They're more comfortable talking to you and telling you about their problems, as opposed to, if you have somebody who doesn't look like you, you can't really speak to them and feel like they probably won't understand. A lot of times, culture comes into play too. So, I just want to be that person to be there."
Alyamamh said she is excited to contribute to more representation of Arab-American women in the medical field.
"Growing up, I never saw Arab women or Yemeni women specifically like me, who were excelling in all of these different fields," she said. "My sisters were my biggest role models and I just want to be that change."