Return to Headlines
DPSCD Students Lead on Peace Day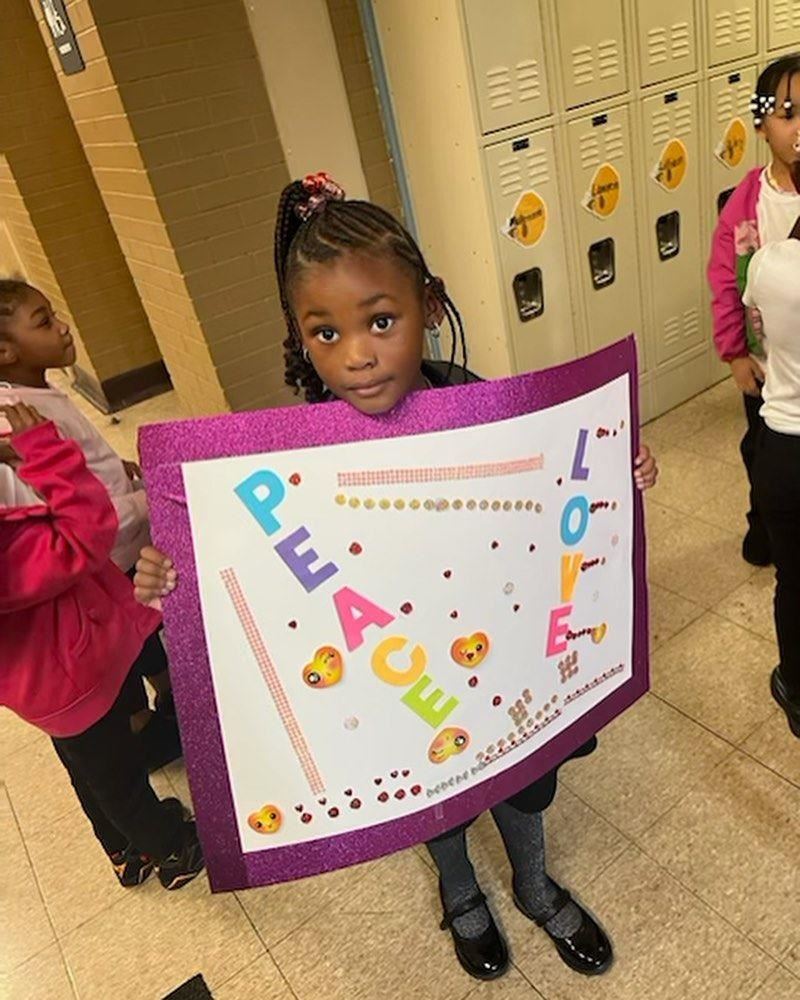 Surrounded by their excited classmates, most of whom were adorned in their white Peace Day T-shirts and holding signs supporting peace in our community, Pulaski Elementary-Middle School students London S. and Delilia G. reflected on the moment.
"Peace Day is important to me," said London, a new eighth grade student at Pulaski who aspires to attend college and study art. "There's too many things going on, we need to calm down and have some fun." Meanwhile, Delilia, a fellow eighth grader and member of Pulaski's academic honor roll, said she planned to share the meaning of Peace Day with her family and friends. "I will tell people what happened today at school and how we celebrated peace and I believe; it will spread to other people."
The collective wisdom shared by London and Delilia was the result of an energetic Peace Day event at Pulaski involving the whole school. It started with a peaceful walk around the block. It concluded with Pulaski Principal Tyra Smith Bell reading a proclamation from City of Detroit Mayor Mike Duggan recognizing Peace Day across the City and, on Principal Bell's cue, Pulaski students released dozens and dozens of silver balloons shaped like stars into the air, in a display of school unity toward practicing peace and healing.
London and Delilia were among thousands of DPSCD students and staff who marked Peace Day across the District with a variety of activities.
At Fisher Upper and Lower Academies, the schools joined forces in a Peace Walk and rally outside the Hellman Recreation Center between the two school buildings. Students from both schools led the call for peace in the community, artfully sharing their stories through a bullhorn to the hundreds of their assembled classmates. At Chrysler Elementary School, a group of students continued their classroom discussions on the importance of how Peace Day can translate into peace in the community. They also learned techniques to adopt the mantra of Positive Thoughts lead to Positive Outcomes during the session. And at East English Village Preparatory Academy (EEVP), community leaders reinforced the school's culture of LUV-Listen, Understand and Validate during a lunchtime group discussion with students. Meanwhile, at Northwestern High, students worked with their Dean of Culture to host discussions at lunch, and some students joined in a healing coloring activity.
The activities, events and sharing of information on Peace Day across the District reflect DPSCD's Transformative Culture priority, where students, families, community members and staff feel safe, respected, and connected. Whether in academics, athletics, performing arts or extra-curricular activities such as chess or robotics, DPSCD schools provide students with a culture where they are loved, challenged, and prepared along with an opportunity to be legendary at school and in our community.
When students rise, we all rise!