Return to Headlines
DPSCD Digest for the week of June 24, 2019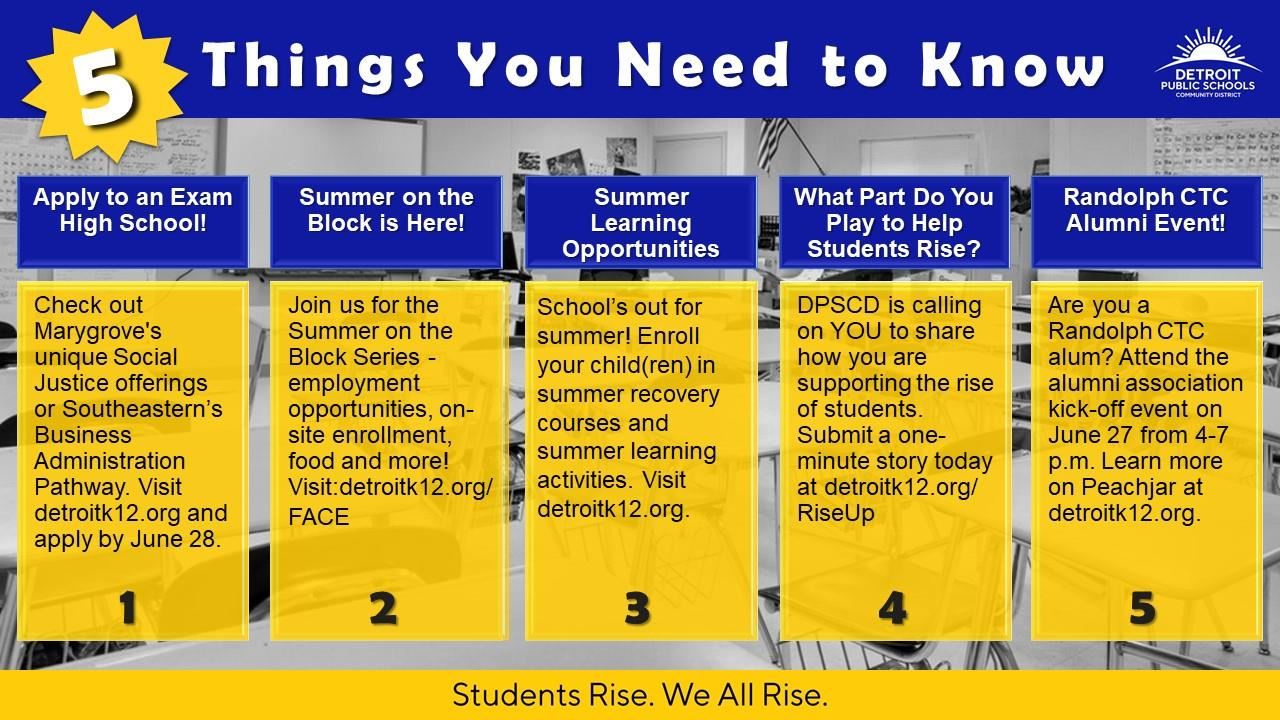 Help Support the Rise Up Campaign
DPSCD has officially launched the Rise Up Campiagn designed to empower teachers, parents, and community to take part in the rise of our students. It takes a village to empower the mind of one student, let us all be a contributing part to our student's achievements. Staff, please share the Rise Up campaign with friends, family, and most importantly, students, to kick off their path to a bright future. The Rise Up campaign is a call to action to encourage individuals within our community to put forth hard work in order to prevail over any obstacles.
DPSCD is urging all members of our community to share their story of success as a tool for young people to carve their own career path! If you would like to share a personal story of success and what it took to attain it please hit the link, detroitk12.org/RiseUp and submit a one minute video!
---
Congratulations Goodfellow Teacher of the Year!
Congratulations to Ms. Sandra Limmer, the 2019 Detroit Goodfellow Teacher of the Year! Ms. Limmer, a 20-year DPSCD educator and fourth grade ELA teacher at Bennett Elementary School, was nominated by her students. The Goodfellows and local media surprised Ms. Limmer in her classroom to present the award and $250 gift card for school supplies. Additionally, she will be acknowledged at the Detroit Goodfellows Annual Tribute Breakfast this fall.
More than 1,000 nominations were submitted by students from across the district answering the question, "Why is your teacher so special?" The winning nomination was submitted by 10-year-old student, Serenity McIntee.
"My teacher is amazing, she makes learning fun. She makes me happy and laugh when I'm sad," wrote Serenity. "She helps us when we need help. When we do tests, she tries to make us concentrate. She's the best teacher anyone can ask for. She tells us to try our best even when it's hard. She's so special to me, she cares for me. She's also there for me if I have problems."
Thank you, Ms. Limmer, for your hard work, dedication and service. It's clear she is doing her part to help #StudentsRise