Return to Headlines
DPSCD School Rocks National Reading Month
March is National Reading Month. And the teachers, staff, and students at DPSCD's Coleman A. Young (CAY) Elementary School, well, they know how to celebrate reading with informative and inclusive events, joyful activities, and impromptu fun!
Reading Fair Sets the Table
An annual highlight of National Reading Month at Coleman A. Young is the Reading Fair, which kicks off a bevy of reading related activities that includes guest speakers and themed days such as dressing as your favorite book character and new for 2023, a Western Day, where students and staff wear cowboy hats, jeans, and boots.
"Students do a 3-D book report on poster boards, and they help our hallways to talk," said Melanie Wallace, 3rd grade ELA (English Language Arts Teacher and Master Teacher), proudly showing off the 2023 boards that include tributes to books by former first lady Michelle Obama and a book about kids' cartoon favorite, Clifford the Big Red Dog. "They pick a book of their choosing and bring it to life by telling us what it is about, why it is important, who the main character is and what the main idea of the story is," said Wallace. "It encourages their classmates to read another book."
Celebrating Dr. Seuss, CAY Style
A nationwide tie-in to National Reading Month is celebrating the birthday of Dr. Seuss, the beloved illustrated and animated character, created by Theodor Seuss Geisel, and featured in more than 60 million books, has entertained and educated generations of children across the country and world.
On Seuss Day at Coleman Young, Academic Interventionist and DPSCD alum Danielle Wallace (daughter of Master Teacher Melanie Wallace) delighted her 3rd graders with the Seuss book "Wocket in My Pocket", as her students received lessons about the letter W. In addition, CAY principal Melissa Scott educated and entertained her pre-K students, fresh from their afternoon naps, with a passionate reading of the Seuss classic, "Cat in the Hat," and its litany of rhyming words.
One student stole the show during the reading, identifying a visiting DPSCD employee (and author of this story) as Dr. Seuss! The subsequent role play by the visiting "Dr. Seuss," added to the joy of the moment as the students' asked questions of "Dr. Seuss" and posed for photos with him when the reading concluded.
Along with the unexpected visit from "Dr. Seuss," other featured readers this month at CAY include DPSCD's Public Safety Chief Labrit Jackson and comedian CoCo, Detroit's first woman of comedy. And at the end of March, students will get to read "Charlotte's Web," the renowned American children's book, and then watch the Charlotte's Web movie, with their mentees, the next day.
Homegrown Program Also Sparks Reading
What Individuals Need or WIN, is a homemade reading intervention program at Coleman A. Young. It pairs a small group of 3rd, 4th or 5th grade lower-level readers with an upper-level teacher during one of the teachers' open periods. The teacher and students gather in the school's spacious atrium and engage in reading activities to build their reading skills and confidence.
"We want to make sure we are making leaps and bounds when it comes to reading," said Principal Scott. "WIN is a homemade program that goes on throughout the school year," she added, paying tribute to her staff for its creation.
District Wide Literacy Plan Ongoing
At the start of the 2022-23 school year, DPSCD launched its comprehensive literacy plan, including instructional materials and frameworks, talent and professional development investments, and initiatives to foster a culture of literacy. Read this media account of the plan to learn more.
With a growing high school graduation rate and programming that meets our students and families where they are, make a DPSCD school your home this fall. To learn more about enrollment options for a DPSCD school, click here. DPSCD, the Future is Rising!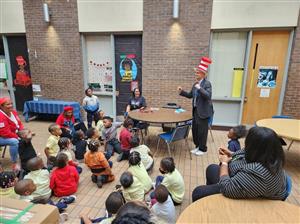 "Dr. Seuss" Visits Coleman A.Young