Return to Headlines
Robotics Rising at DPSCD!
DPSCD was well represented at the middle school FIRST Robotics Michigan State Championship held at Macomb Community College during Holiday Break. Student from Neinas, Durfee, Bates, Davison, Earhart, and FLICS (Foreign Language Immersion and Cultural Studies School) had a great experience with teams from across Southeast Michigan.
However, a tip of the cap goes to FLICS Team 14010, Techno Phoenix that won three awards and was part of a winning alliance, marking the first time a DPSCD middle school FIRST robotics team was recognized at the state championship. Because the FLICS team was in partnership with two winning alliance partners, the Techno Phoenix won the state championship! The FLICS team was also awarded the 2nd place Motivate Award as well as the 3rd place Inspire Award.
Well done and congratulations to the FLICS Team 14010, Techno Phoenix!
Check out the FLICS Techno 14010 Techno Phoenix roster and coaches:
FLICS Players
Caleb Baker

Charris Jefferies

Aslan Fleming

Jaslene Gonzalez

Daion McDonald

Sumayyah Piper

Tyneisha Powell

Tyre Ramey

Leon Pryor III
FLICS Coaches
Leon Pryor Jr. (From Amazon and parent of DPSCD student)

Dr. Jean Claude Quenum (DPSCD teacher)
Finally, while a scheduling conflict precluded their ability to attend the state championship, a salute to the Clippert Magnet Academy Robo Eagles robotics team that also qualified for the state championship. Outstanding!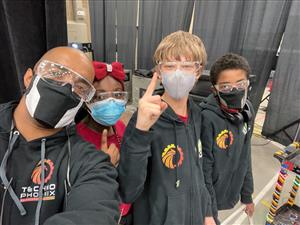 Members of the FLICS Team 14010 Techno Phoenix Celebrate Their Success!
Whether through robotics, athletics,fine arts or other school based clubs and organizations, DPSCD has programming to support your student's rise! For more information on FLICS, watch their school spotlight video.