Return to Headlines
DPSCD Supports Families' Rise with Holiday Programming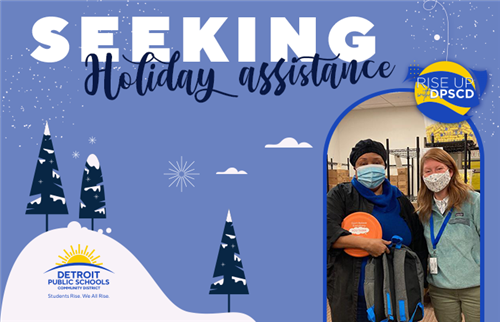 For many DPSCD families, hardship is not just a word, it's a reality. This holiday season, the District is brightening the holidays by embracing the spirits of hope and giving with donations and an adopt a family program.
"The Family Resource Center has been a huge blessing to our families," said Laci Bosquez, DPSCD Program Supervisor. "There's something really powerful about families being able to come and get what they need without any financial or household size qualifications. They can come freely without shame, restriction or a scarcity mindset."
The DPSCD Family Resource Distribution Center in partnership with Frito-Lay, continues to distribute food, hygiene products, books, clothing, backpacks and now, school uniforms thanks to the DPSCD Foundation. Families can visit the Family Resource Center part of Adult Education Center - West located at 16164 Asbury Park, Detroit, MI 48235, Mondays-Thursdays from 10 a.m. - 3:30 p.m. For more information, contact Joi Mausi, Sr. Director of Family Engagement at joi.mausi@detroitk12.org.
The Office of Homeless and Foster Care's (OHFC) Holiday Helper Program is in full effect.
Individuals looking to adopt a family this year should complete the survey by Friday, December 3, 2021. Holiday Helpers (sponsors) will be asked to purchase new gift items including clothing, food, and toys. The OHFC will:
Collect a "wish list" from the identified families
Match the Holiday Helper with a family based on their survey response
Have the Holiday Helper drop off the items to the OHFC office
Schedule pick-ups and deliveries for families before Christmas Break
Rise Up with DPSCD and spread some holiday cheer by adopting a family today. For additional assistance, please call (313) 748-6383 or email ohfc@detroitk12.org.
DPSCD parents and families are invited to the Coats for Kids and Molina HOPE Coat Drive! DPSCD partner Molina Healthcare in partnership with the Salvation Army, will be giving away 2,000 coats to children 18 and under on Saturday, December 18th. Parents must be present to receive a coat and they will be available while supplies last. The event will take place at the Salvation Army Connor Creek Site located at 3000 Conner Street Detroit, MI 48214 (near 8 mile and Outer Drive) from 11 a.m. to 2 p.m. Please contact MHMCommunityOutreach@MolinaHealthcare.com for any questions.
If you know of a family in need this Holiday season, please contact Laci Bosquez at laci.bosquez@detroitk12.org.