Return to Headlines
Fox 2 Interviews Ben Carson Student Accepted to Harvard on Full Scholarship
Ben Carson High School (BCHS) senior Mahbuba Sumiya is a DPSCD Application School success story. Through hard work, determination, participation and grit she recently earned an early acceptance into Harvard University, one of the world's most renowned schools in Cambridge, MA.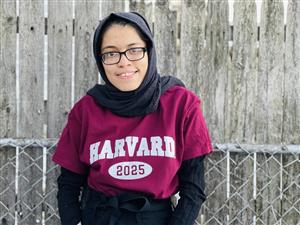 "A lot of people have been telling me 'you worked hard, you deserve this,' and I did work hard and did what was I supposed to do to be ready to apply for college. But for me, it was all the support I got while at Ben Carson. Whether it was my teachers, my counselor, my mentors, if I didn't have all the people that I had throughout this process, I wouldn't be where I am today," she said humbly, noting the significant role of her parents as well.
This year, Harvard decreased their early action acceptance rate to 7.4 percent, making it "the most competitive early admission cycle in its history." They accepted only 747 of 10,086 students through their restrictive early action, a further tribute to Mahbuba's acceptance into one of the world's most prestigious universities.
Mahbuba's goal when entering high school was to be accepted into an Ivy League school. At first, she attended DPSCD's Cass Technical High School, but after two weeks realized the large school was not the best fit for her. That's when she found Ben Carson High School, one of the District's Application high schools.
"I transferred to Ben Carson from Cass Tech because it's a small community with a significant focus on STEM (Science, Technology, Engineering and Math) and healthcare. I felt like Ben Carson would allow me to pursue those passions in an intimate environment."
It was easy for her to form relationships with her teachers and classmates. This led to her close bond with Ben Carson staff members such as: English teacher Shannon Wait; math teacher Michelle Groven-Nelson; and school counselor Millicynt Horton, who all contributed to Mahbuba's Harvard application by writing letters of recommendation. "I've always been so supported by them. I am just so grateful that I met Ms. Nelson, Ms. Waite and Ms. Horton at Ben Carson."
Mahbuba plans to pursue biomedical engineering at Harvard. Going into high school she was interested in the field of medicine, and it was during her time at Ben Carson when she was able to explore those interests that have built her resume and prepared her to study the field she is passionate about.
"Biomedical engineering will allow me to pursue the things that I like – programming, designing, research, and also making an impact by building things that will help people who have disabilities," says Mahbuba.
"I would tell other students who want to pursue STEM to apply to Ben Carson because we have programs like Future Docs and 101 Mentorships. Also, at Ben Carson, if you don't see a club you're interested in, you can start it! I started my own club with a few other students and loved it. BCHS gives you the freedom to explore and take initiative in a smaller environment and still get the same number of opportunities that you would at a larger high school."
Her activity level is impressive and reflects the District's Students First mantra of providing opportunities for students to learn and grow. She is the acting president of BCHS's Creative Writing Club, president of National Honors Society, secretary of the Red Cross Club, treasurer of Key Club, and is a Clinic Ambassador.
Outside of school, Mahbuba has engaged the community in campaigns for human rights through her role as team coordinator and co-founder of Partners in Health Engage; she has won first place in DesignConnect's Design the Future contest with her cane and app for people battling sight issues; and she has had two research papers published with IEOM Society (Industrial Engineering and Operations Management) and Journal for Youths in Science. But wait, there's more!
She has been a research assistant in a cancer lab and psychiatry and behavioral neurosciences lab; she has participated in Wayne State University's ThinkLab, conducting research with undergraduate students, graduate students, and assistant professors on the impact of stress on children.
If you or your student is interested in pursuing an application school with a focused interest, apply now! If you're interested in a hyper-focused high school curriculum in science and medicine, consider applying to Ben Carson High School for the 21-22 school year. Applications are now being accepted to through 11:59 p.m. on Sunday, March 7. For more information and to apply, visit www.detroitk12.org/applicationschools.