Return to Headlines
DPSCD Teacher: "She is like a gift"
Words that are used to describe DPSCD teacher Tracey Sturdivant, third grade, Pasteur Elementary School, are "motivator and innovator." These words also describe how she connects with her students. She motivates them and always encourages them to be innovative.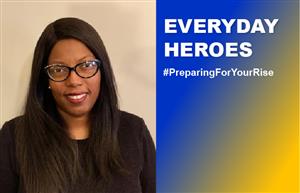 "What stands out for me about Mrs. Sturdivant is that she is a creative teacher," says Pasteur Principal Michelle Hall. "This year her goal was to get more parents involved with their students. She set aside time for parents to read to the class. It has been a great way to accomplish that goal."
Ms. Hall watched Mrs. Sturdivant's parent participation increase from zero to seven during the pandemic. And she is convinced more will be joining as she has a goal to involve all 19 parents in some form of student/classroom engagement.
Sturdivant says the drive behind her teaching methods is to have her District students, past and present, reach their full potential.
"Mrs. Sturdivant is the best teacher ever," said Bailey James, one of her students, recently. "She is like a gift."
And she also is known to give gifts.
The pandemic did not stop Sturdivant's spirit of giving. She has continued her practice of rewarding the student of the week with prizes. She sees it as a way to motivate her students to learn online.
"Every little act of encouragement motivates a child to go higher in their education," Sturdivant said.
She has learned the small things go a long way, with a little creativity, students continue to be motivated to learn. She has created songs to go with a particular lesson; she regularly holds a Thanksgiving dinner in which her students have a banquet, in Indian and Pilgrim costumes, celebrating the first Thanksgiving and this year, she started having parents of her students read to the entire class.
You too can have your child benefit from the Everyday Heroes who make up the DPSCD teaching staff. Please visit www.detroitk12.org/enroll for more information on how you can help with your child's Rise by enrolling them in a DPSCD school. We are saving a seat for you! #StudentsRise