Return to Headlines
Digital Inclusion: human-I-T, DPSCD Partnership Drives Fight Against the Digital Divide
In the face of the pandemic, the District partnered with several organizations to close the digital divide, through the Connected Futures initiative. human- I-T, a national nonprofit organization that provides financially stressed community members with computer hardware, internet connection, and programs to develop digital skills, is supporting the District by repairing devices and providing wireless access assistance.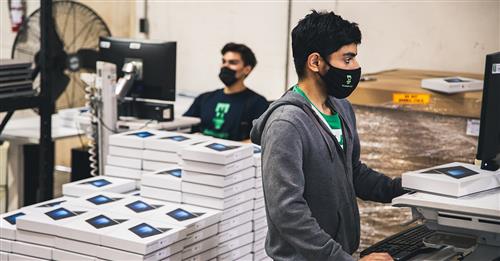 Through the Connected Futures initiative, DPSCD distributed more than 44,000 wireless tablets to help students and families with online learning, prior to the start of the 20-21 school year and an additional 1,400 devices after the start of school. Given the size of the deployment, approximately two percent of the devices have required replacement. DPSCD recognizes that students and families have experienced wear and tear issues with their devices such as broken screens, keyboard problems as well as cameras not working. To combat those issues, the District established numerous Technology and Family Resource Hubs throughout the city on December 1, 2020, providing direct resources for needed repairs. human-I-T is also playing a role in assisting District families in this venture.
You can receive technical support from human-I-T by calling (313) 865-9800 or by texting "HELP4CF to (562) 372-6925. You can also complete an online form at help4cf.org. Be sure to review Human IT's Frequently Asked Questions page for further guidance on hardware and software issues. In addition, the Hubs are at your service. Hours of operation and available resources provided can be found by visiting www.detroitk12.org/hubs. An important reminder, the Hubs will not be in service during DPSCD's upcoming holiday recess from December 19 - January 3, 2021.
Photo above from: human I-T
Also, please note. DPSCD is extending free internet service until June of 2021. That means District students and families will not have to worry whether they will be able to stay connected to their online learning platforms for the remainder of the 20-21 school year. human-I-T's work with DPSCD is one of many examples of how its cache of services is making a positive impact across the country.
"As an organization, we continue to add services to help smash digital barriers, particularly in communities that, to date, have lacked connection capacity," said James Jack, Founder of human-I-T. "We are excited to be part of the transformative work with DPSCD through the Connected Futures initiative."