Return to Headlines
High level highlights from the November 17, 2020 Board of Education meeting
Board of Education Chair Dr. Iris Taylor congratulated incumbent Board members Sonya Mays and Misha Stallworth on their re-election to the Board. She also recognized state representative Sherry Gay Dagnogo, who will take her seat on the Board of Education in January. Dr. Taylor wished the entire DPSCD community a Happy Thanksgiving, reminding members to stay safe by practicing common sense COVID-19 safety protocols such as hand washing and social distancing.
Prior to DPSCD Superintendent Dr. Nikolai Vitti's report, Dr. Taylor and other Board members shared the District's significant news of being released from direct fiscal oversight by the Detroit Financial Review Commission in late October. The granting of a waiver by FRC marked a dramatic turnaround in DPSCD's finances compared to the weighty debt burden that existed while under state emergency management. Dr. Taylor and other Board members acknowledged the accomplishment, completed in a mere three years' time, thanks to consistent financial stewardship by District leadership. They also pointed toward the work to be done going forward to maintain the waiver on an annual basis.
Superintendent's Report:
The bulk of DPSCD Superintendent Dr. Nikolai Vitti's report focused on the pending opening of the Technology Support & Family Resource Hubs, slated for December 1, 2020. The 13 hubs will be strategically located in four geographical sections of the city to meet our families where they are at. The planned hub locations are:
Northwest: Eastside: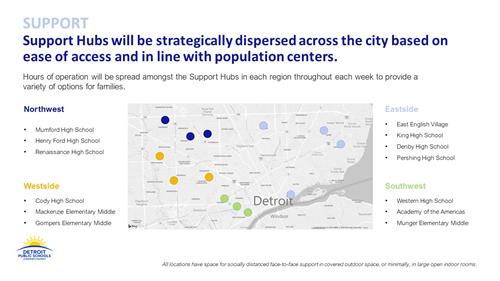 Mumford High School East English Village
Henry Ford High School King High School
Renaissance High School Denby High School
Pershing High School
Westside: Southwest:
Cody High School Western High School
Mackenzie Elementary Middle Academy of Americas
Gompers Elementary Middle Munger Elementary Middle
Families and students will be able to use the hubs to solve problems with their wireless tablets as well as get a better understanding of navigating the District's online learning platforms. In addition, Dr. Vitti said the hubs will be meal distribution sites and could provide other resources.
Dr. Vitti noted that the District continues to monitor the COVID-19 virus infection rate in the city. With the rate now exceeding the five to seven percent threshold set by the District for safe in person learning, DPSCD proactively moved all face to face and Learning Centers students, teachers and staff to online learning, starting the week of November 16.
January 11, 2021 has been targeted for a possible return to face to face learning. However, Dr. Vitti said that any decision associated with a potential resumption of face to face learning or opening of District Learning Centers will be based on data and science.