Return to Headlines
Online Learning Option: What you can expect from your District this Fall
COVID-19 has caused uncertainty amongst all of us. Amid the anxiety, however, is hope. And the center of that hope is providing our children with a quality public education, something we strive to do for all DPSCD families day in and day out. If you decide that the District's online learning option is best for your family, we are prepared to meet your needs when the new school year begins on September 8.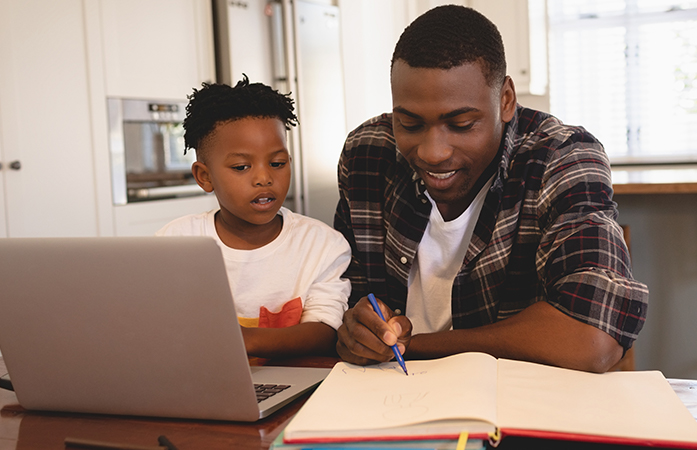 Online students can expect to receive physical materials such as planners, workbooks, and textbooks to accompany their lessons, just as they would receive if they were in a classroom. To improve the online experience from last spring, the District will use a new learning management system called Schoology, intended to make the online learning experience more efficient. For our high school students, the District is looking at remote cameras that will enhance teacher and student interaction between face to face students and online students. We also will use other platforms such as Microsoft Teams, LearnZillion, i-Ready and others to add to the educational experience of our online students and their families. Online students will be expected to complete their daily assignments and will be given grades for their work, like face to face students.
To help with socialization, a critical facet of face to face learning, online learners will maintain their enrollment status at the brick and mortar schools. The District will contact families in advance of each quarter and semester concerning possible status changes of online students. Based on teacher staffing availability, families will be offered an opportunity to go to from online learning to face to face or vice versa following the issuance of report cards. And, online students can participate in extra curricular activities, such as sports, part of our Whole Child Commitment for all our students.
Our wraparound services such as access to school counseling staff will be available for online students. Teachers will also maintain office hours and provide weekly one-on-one check ins with students and families to ensure your child is on track academically. Students will maintain connections to their home school (and their friends) by being grouped with peers that they may know from prior school years.
Our online curriculum is completely aligned to our in-person curriculum and takes our students' needs into consideration. Core content reflects the cultural histories, community practices, and cultural repertoires of people from diverse backgrounds.
DPSCD K-12 online students will have access to the Homework Hotline in the evenings to receive personalized support. If you have questions pertaining to online learning, read the District's Frequently Asked Questions document about online learning at detroitk12.org/ReturnToSchool, or call 313-240-4377.
As we navigate through the COVID-19 pandemic, please refer to the opening plan and the frequently asked questions. The District's plan was designed to accommodate both online and face to face learning. Either way, we are saving a seat for you on September 8, 2020, the start of the new school year. We know when students rise, we all rise.