Return to Headlines
Highlights from District's Reopening Plan 2020 Town Hall Held Mon. Aug 3
Additional sessions planned for Wednesday, Aug. 5 and Friday, Aug. 7
Detroit Public Schools Superintendent Dr. Nikolai Vitti held his second of seven online town hall meetings outlining the District's Reopening Plan 2020 on Monday, August 3.
Dr. Vitti reiterated the nimble and flexible nature of the Reopening Plan 2020 that empowers parents with options to select face to face learning or online learning for their children when school opens this fall on September 8. Families are urged to fill out a survey, sent to your student's email address, to select the learning option that is best for your children. The final date to submit the survey is August 21.
Please see other high-level highlights from meeting:
Face to Face to learning:
Dr. Vitti discussed the robust measures DPSCD will institute to enhance the safety of students, teachers, and staff. Safety procedures will include:
Smaller class sizes with no more than 20 students per individual classrooms with social distancing safeguards in place.
Daily temperature and symptom checks will be done as students enter school buildings.
Reusable face masks will be provided to students, teachers, and staff.
Masks will be required to be worn by students, teachers, and staff.
Visible signage will remind students, teachers, and staff to practice safe habits such as hand washing and social distancing.
Good hygiene will be practiced, with bathrooms restocked with soap to promote hand washing. In addition, all classrooms will have ample hand sanitizer.
Daily cleaning and disinfecting of classrooms, offices and shared spaces will occur.
A cleaning log will be posted in schools to verify that the stringent cleaning procedures have been completed.
Students can also bring additional sanitizers and sneeze guards as added measure of protection, Dr. Vitti noted.
A team of four people will add another layer of safety by conducting daily walk throughs at District schools. This team will assess implementation of safety standards.
School bus drivers will have masks on District school buses. One student per row on school buses to ensure social distancing.
Online learning:
Noting that online learning will be "better than the spring", Dr. Vitti highlighted several improvements planned by the District for online learning this fall such as:
The District will be using Schoology, a new learning management system that allows users to create, manage and share academic content more efficiently.
Online learning will be completely aligned to the District's face to face curriculum.
Online learners can participate in extra-curricular activities such as sports.
Through the Connected Futures initiative, all DPSCD students can get a tablet computer as well as six months of free internet access to help bridge the digital divide in our community. Deployment of the tablets has been ongoing this summer. Dr. Vitti said all schools will deploy their devices prior to the start of school on September 8.
Dr. Vitti will hold two more Tele-Town Hall meetings this week concerning the Reopening Plan 2020, on Wednesday, August 5 from 4 p.m.-6 p.m. and Friday, August 7 from 10 a.m.-12 p.m. The meetings will be live streamed on the District's Facebook page. You can also participate via Zoom with webinar details listed below: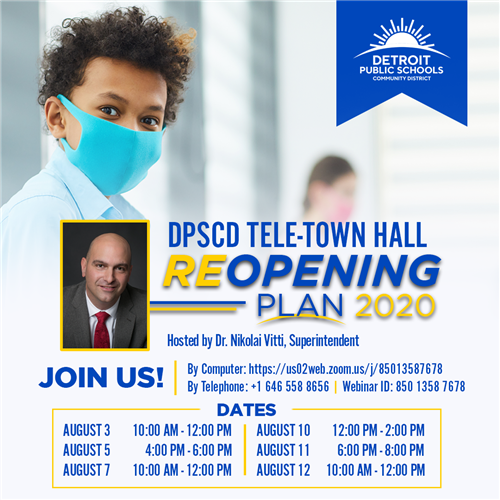 You can find the DPSCD reopening plan and a host of other information related to it on the District's Return to School page of the DPSCD website.