Return to Headlines
Parent Academy Data Indicates an Increase in Family Engagement in Workshops and Events
Detroit Public Schools Community District (DPSCD) has experienced an increase in parent engagement, participation and positive feedback through its Parent Academy program, a flagship initiative under the District's strategic plan and the Transformative Culture priority. The program was launched in 2018 through a $3 million grant from the W.K. Kellogg Foundation.
During the 2018-19 academic year (July 2018 to June 2019), the District held 447 Parent Academy free workshops with more than 6,667 participants in attendance. Ninety-nine percent of participants provided feedback indicating the workshops were a good use of their time.
"I had just survived a second bout of cancer and entered the new year with a broken spirit and trying to recover. I joined the PTA at my daughter's school as a treasurer and was introduced to the Parent Academy Workshops," said Sharene Nathan, Parent Action Leader at Ludington Magnet Middle and Honors School. "I attended a workshop about the IEPs for students with my daughter because she lives with autism. Learning more about the IEP process and my rights as a parent and being able to be a better advocate to my daughter has been phenomenal. I also applied and received a scholarship from Parent Academy for the phlebotomy workshop to earn a certificate. Not only did the class restore me, it mended me. It allowed me to start a new chapter in my life. It allowed me to interact with other women who said, 'I've been down that road, you will make it.' I was able to get certification from the State of Michigan. For me, the Parent Academy course was more than just a class—it was my life."
Additionally, a component of the Parent Academy is Kindergarten Bootcamp, a transition program serving DPSCD's early childhood development, which operates during the summer months. The program prepares pre-kindergarten students and their parents to successfully enter kindergarten. Surveys indicated that 97 percent of parents said their child enjoys reading more after their experience at Kindergarten Bootcamp and families increased their reading time by 5.5 hours each month. Seventy-five percent of children were using new words and 94 percent of children were talking about what they read. Overall, 73 percent of parent participants knew what was expected of them from their child's school after the program.
The last component of the W.K. Kellogg grant included funding of the Parent Teacher Home Visit Program (PTHVP). This program engages teachers and building staff during non-school hours in the student's home and provides students with one-on-one guidance while engaging parents. The teacher, parents and student discuss goals for the student, while teachers provide tools and strategies parents can use to bolster their child's performance. Since its launch, 3,758 students participated in the PTHVP and 5,567 home visits have occurred, exceeding the District's goal of 3,000 visits.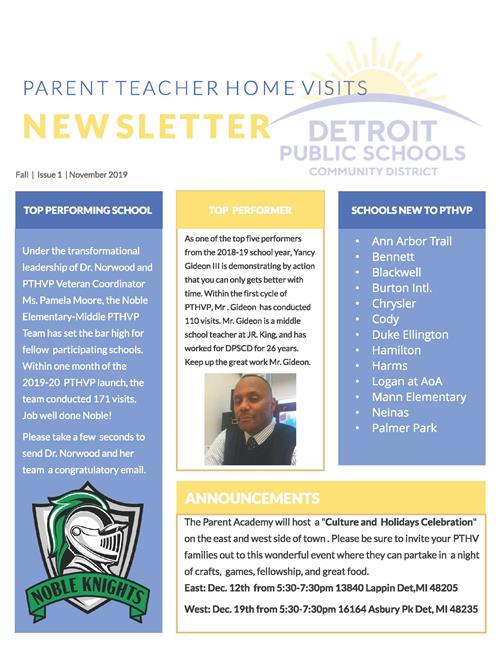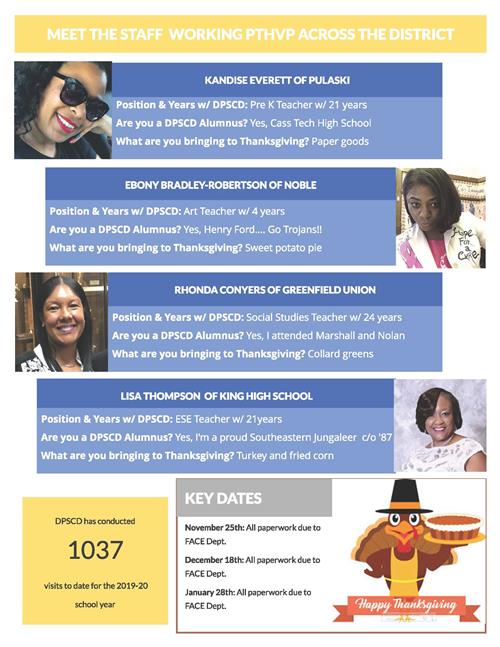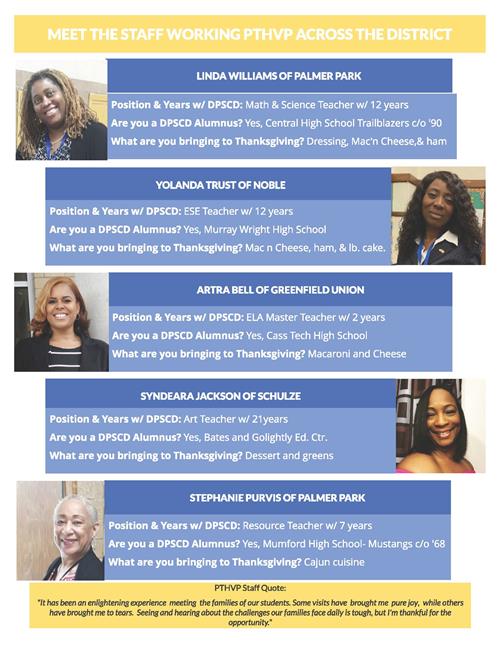 To learn more about the Parent Academy, download the course catalog, or sign up for classes, visit detroitk12.org/ParentAcademy.