Return to Headlines
Western Int'l High School Reveals New State of Art Weight Room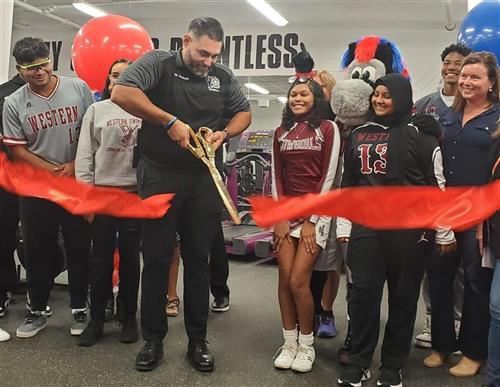 Amid the gasps of surprise and screeches of excitement by Western International High School students at the sight of the school's new redesigned and reoutfitted weight room, Principal Angel Garcia officially snipped the ribbon which ushered in a new era of student athlete training as well as student wellness during a pep rally/ribbon cutting ceremony celebrating the new facility.
Made possible by the generous support of the Detroit Pistons, United Dairy of Michigan and Planet Fitness, the new weight room features state of the art equipment including treadmills, free weights, and bench presses, along with technological enhancements and information on nutrition. And the new weight room will not be exclusive to Western student-athletes. It will be open to all students and staff, according to Principal Garcia.
"This is about everybody," he said to the delight of students and staff assembled in the school's gymnasium for the pep rally which featured music and motivational words from the three partners. "We are going to have weight room classes and weight training classes," he added, noting that the new weight room will be part of teaching Western students the importance of living a healthy lifestyle. "I am thankful that our partners came together, it is huge."
The magnitude of the moment was not lost on two of Western's student athletes, junior volleyball player Yarely Orozco-Tapia and senior baseball player Julian Djurasaj, who aspires to play baseball at the college level.
"It helps to know that people care, to give this opportunity to us," said Julian, noting that the old weight room did not have treadmills and was resplendent with older equipment. "I think this shows they want us to succeed."
For Yarely, who dreams of one day being an airline pilot, the new weight room also provides another outlet to develop her leadership skills, something she and Julian are already doing by serving on the District's Student-Athlete Council.
"Being in the weight training room, there is an opportunity to lead," she said. "Someone could make a wrong move with the equipment and hurt themselves, so we have a chance to lead others and I think that is important."
Whether through partnerships such as this with the Pistons, United Dairy of Michigan, and Planet Fitness (DPSCD and the trio came together on a similar project in the refurbishment of Denby High School's weight room last spring), DPSCD works to practice its Core Value of Students First, making decisions that are in the best interest of our students and using resources strategically so we can meet our student's individual needs.
For more information on the work of DPSCD's Partnerships Office and how your group or organization could play a key role in our student's rise, please click to learn more. For DPSCD students, the Future is Rising!