Return to Headlines
Progress Reports Are Ready On PowerSchool!
Progress reports are ready and out! Progress reports are ready today, Wednesday March 16th and can be printed at the school to be picked up if requested, or can be accessed online through PowerSchool.
Progress reports let students and parents know where there grade is at currently, as we approach Quarter 3 report cards in just a few weeks.
To access progress reports at home, please follow the steps below once you log into PowerSchool and let us know if you have any questions.
Part 1: Select Students
From the Start Page, use Student Search to select the students you would like to generate reports for. To select all students from a particular grade, select the grade. Your selection will show up under Current Student Selection.


From the home page select MBA Report Creator under Plugins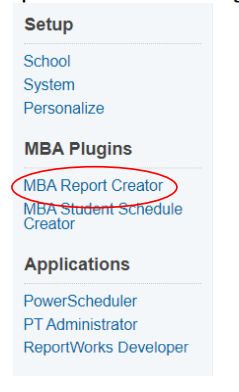 Part 2: Generate the Reports
Use the Report field to select the report you would like to generate. The dropdown will only include the reports you have access to.

Use the Student Selection field to indicate which students you would like to generate the report for.Choosing Current Selection will use the student list you selected in part 1.

Use the Grade Level field to only print reports for a particular grade level of your selection. This could be helpful to print in batches if your selection includes multiple grades. To generate reports for your entire selection, choose All Grades.Note:Selecting All Grades means you are selecting students from all grades from your student selection. If your student selection includes only one grade level, selecting All Grades will give you the same result as selecting the individual grade level.


Use the Sort Order field to specify the order the reports will be
printed in. This could be helpful to sort printouts by homeroom for distribution. For K-2, we select Period 11, which is the student's AM period.Note:The values that display here may not be what you expect; they represent the internal period expression rather than the abbreviation. For this elementary school example, Period 11 corresponds to the AM period, Period 12 corresponds to PM, and Period 13 corresponds to E Period. The home room option is referencing the field, not the course. If you are not able to identify the period you want to sort by, reach out to info.sis@detroitk12.org

The final two checkboxes can remain bank in most circumstances. You may select them if you deem them beneficial for the report you are generating.

Once you have made your selections. Click Generate Reports.

Part 3: Print the Reports
Select Print in the upper left--hand corner.From here you may print the report or save to PDF. Note: If anything looks incorrect, or you would like to look deeper at the source of a report, you can use the troubleshooting tips to look at details or click into a student's record.