Return to Headlines
The 2023-2024 Welcome Back Message from Principal Adams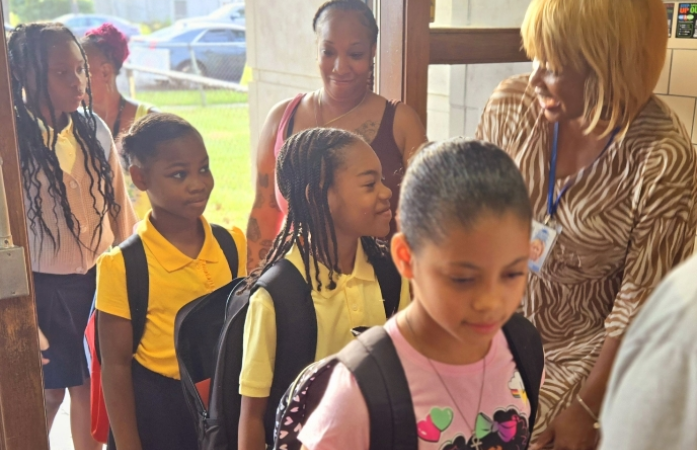 Welcome Back Barton Elementary Parents and Students!
We are excited about the upcoming school year and you should be too. Barton Elementary School is committed to providing all of its students with a Quality Education. The school schedule will include a school-wide common schedule that will focus on meeting students where they are with their level of learning and knowledge. This intervention strategy will empower students with the tools necessary to be successful with their assigned grade level classroom learning.
Teachers will be using research-based curriculum to provide a Quality Education on a daily-basis. Students will receive an equal time frame for learning in all of their core classes. Homework will be a reflection of what was taught in the classrooms to strengthen students' learning. Parents, please expect your child to come home with homework at least 2-3 days out of a school week.
The school schedule will remain the same as last year 8:30 am – 3:40 pm. Barton Elementary is a uniform school where the students wear pale yellow polos and dark blue pants/skirts. We are looking forward to seeing all of our students return to Barton and we are looking forward to meeting and welcoming new students to Barton as well. Barton Elementary offers a warm and inviting learning environment for all students.
I am honored to serve as the principal of Barton Elementary School. I bring over 25 years of experience as an educator. I was a teacher for 18 years at numerous Detroit Public Schools and 6 years as a dedicated and passionate administrator. My door is always open.
We know a strong partnership with parents will make a great difference with their child or children's education. Please share your concerns to ensure that parents' voices are being heard at Barton Elementary School by sending me an email at rosa.adams@detroitk12.org or calling me at (313) 873-1884.
Sincerely,
Rosa Adams
Principal