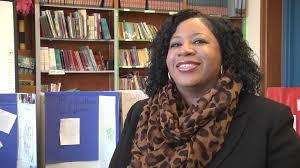 Phone:
Email:
Degrees and Certifications:
Mrs.

Regina Haywood

Principal Regina Haywood is the humble leader of Nichols Elementary Middle School. She is a principal who believes in her school being on one accord. She is proud to be the leader of a school that has over 100 year legacy in the Indian Village Community . She runs the school as a family-oriented community learning environment as many of our parents, grand-parents and even great-grandparents are still part of the learning community today. The school is focused on and excited about the new changes to the district including the new EL Curriculum, Eureka Math and IReady program rollouts. Studeent are already benefiting exponentially from these amazing changes to our district.

According to an article written about Regina Haywood when Nichols was chosen to be the DPS School of the Week in 2015, Monday mornings are typically said to be one of the most "unlooked-forward-to" days of the week for many individuals. It is routinely the morning to hit the snooze button a few times or drag your heels as you prepare for a school or work day, but the students and staff at Nichols Elementary-Middle School beg to differ. Each and every Monday morning, Principal Regina Haywood leads her school with a clever concept she likes to refer to as "Monday Morning Matters."Monday Morning Matters is a weekly assembly Principal Haywood utilizes as a tool to kick off the school week with encouraging words, acknowledge positive student behavior, highlight extraordinary teachers and simply sync each and every Nichols school member in order to ensure a successful teaching and learning environment. "I want my staff and students to be recognized for what they do.It is important to come together to make sure everyone is on one accord because ultimately it is not just my business, but their business too," Haywood says.

Regina Haywood had the pleasure of meeting with and being interviewed by Mitch Albom being referred to by the well-reknowned author as "The Heart of Detroit" for her enthusiam for the District and the willingness to bring students in the community back to the district. She encourages community outreach in many forms and has distinct relationships with churches and other community leaders in effort to continue to support the parents, students, staff and other commmunity members vested in Indian Village.