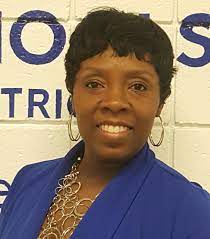 Phone: 313-866-9550
Email:
Degrees and Certifications:
Southern University - Baton Rouge, LA BS in Secondary Education - Major: Business Education; Minor: Computer Science Education Wayne State University - Detroit, MI M.Ed. - Career and Technical Education Education Specialist - Educational Administration
Mrs.

Felicia H. Moore

Felicia Hatten Moore developed an interest in Career Technical Education in as a high school student at Highland Park Community Schools. Upon graduation from Highland Park, she attended the Historically Black College/University – Southern University in Baton Rouge, LA in which she received a BS in Secondary Education with a major in Business Education and minor in Computer Science Education. Felicia knew she would return to Michigan to teach in the Highland Park/Detroit area. In 1993, she began her teaching career at Murray Wright HS as a business education teacher. During her tenure at Murray Wright, she earned a M.Ed. in Career and Technical Education.

Felicia was recognized for her leadership qualities while serving as a teacher at Randolph CTC, Northwestern HS and Golightly CTC. During her tenure at Golightly CTC, she earned an Education Specialist degree in Educational Administration from Wayne State University. It was at Golightly CTC she was promoted to Department Head of the Trades and Industry department. She was later promoted to Assistant Principal at Crockett Career Technical Center and Western International High School until 2013.

Felicia Hatten Moore returned to district in 2017 as the Director of the beautiful Breithaupt Career Technical Center. Her leadership vision and mission have been to expand and relaunch programs that are in industry demand, increase work-based learning opportunities for students, garner partnerships with local business and industry, and support the district's and City of Detroit initiative to provide post-secondary, technical skills training to local adult learners.

Both of Felicia's parents were skilled trades workers at General Motors. She was born in a "technical" family and recognizes career technical education as a viable career option for students. She is committed to providing Detroit youth every opportunity to succeed. She and her staff bring nearly 200 years of teaching and industry experience to local youth. Her dedicated staff has created the Breithaupt culture in which students feels safe, regarded as young professionals, and confident they are well prepared to compete with their peers on a local and global stage.