Return to Headlines
DPS Alumna Leonora King Gives Back to Detroit Youth Through Tennis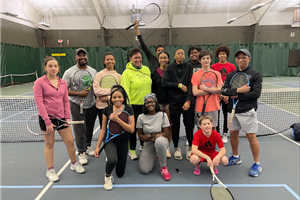 For Mumford High School Alum Leonora King, tennis isn't just a sport. It's a way of life, with Detroit's youth at its core.
King runs the People for Palmer Park Tennis Academy, a low-cost tennis academy for kids.
On a rainy Saturday afternoon, King yelled encouragement and gave instructions from the court at Dearborn Racquet and Health Club, the program's home in the winter. The thwack of balls hitting the ground reverberated across the courts. Dressed in athletic clothes and carrying a racquet, King was in her element.
"I just like hitting the tennis ball," she said. "Hitting the ball is spiritual. It's a good feeling."
In 2010, the City of Detroit threatened to shutter about 77 parks across the city, according to news reports. In response, King and other community members formed the nonprofit People for Palmer Park in 2011 in an effort to save the park.
King's program at Palmer Park grew from a handful of kids to more than 200 in the summer before the pandemic, and about 120 kids in the summer session following. The program also hosts students during winter sessions.
King said the program gets kids involved in a positive, constructive activity that benefits them physically, emotionally and socially. Tennis can also offer greater opportunity in the form of college scholarships.
"In a social aspect, I think tennis encourages us to have good relationships in general with people who are on a positive path," she said.
Cass Technical High School tennis team captain and senior Jacquelyn McClanahan has been in King's program for about 10 years. Referring to her as 'Coach Lee,' Jacquelyn said not only is King a great coach; she is also a great mentor. King gives her advice about college and life, she said.
By offering scholarships and keeping costs low, King also introduces many African-American and low-income students to a sport that has traditionally had financial barriers.
Charisse Woods, another senior and member of the Cass team, said tennis is her emotional outlet and her place to relax. She is appreciative of the opportunities King's program has given her, from networking to training with world-class coaches.
"I am really thankful for her," she said.
For King, this is just a calling.
"I wanted to share my love of the game with kids in my community and I wanted kids to be able to see that they can be successful at it, that they don't have any kind of hindrances from not seeing other African-American people play it," King said.
King knows what it's like to be the only person of color on the court. She was the first African-American player to join Western Michigan University's tennis team following her graduation from high school in 1976.
In high school, she was inspired to join the Mumford girls' tennis team by tennis great Billie Jean King and the players at the high school. She also took to Palmer Park's tennis courts to learn from the 'old timers' and get her start in tennis.
"I decided that I wanted to play tennis. So, I got a racket and I would hit up against the wall. At the time, Mumford had the very best, top Black kids playing tennis. I mean the best in the city because the coach there wanted to have the best team," King said. "When I saw them, I was like wow, it was just amazing."