Return to Headlines
Renaissance Alum Jerjuan Howard Comes Home
Renaissance High School alum Jerjuan Howard knows the importance of giving back.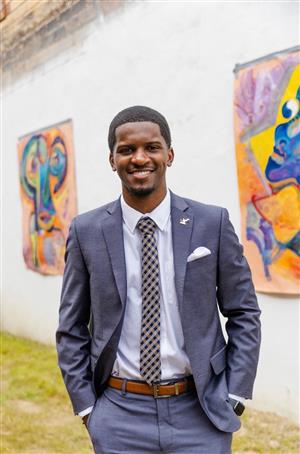 That's why, upon returning to his hometown of Detroit, Howard founded the nonprofit Umoja Debate Team to inspire and uplift DPSCD youth.
Howard's nonprofit contracted with Paul Robeson Malcolm X Academy, John R. King Academic and Performing Arts Academy, Mary Mcleod Bethune Elementary-Middle School, and Catherine C. Blackwell Institute this school year to create an afterschool debate team.
"Umoja Debate Team is a youth debate team for middle schoolers here in Detroit, to teach conflict resolution skills, self-expression, articulation of their thoughts and ideas, just overall a boost when it comes to literacy," he says. "Better readers, writers, listeners and speakers."
On a recent afternoon, the debate team at John R. King, practiced for an upcoming competition by reading tongue twisters out loud from a whiteboard.
Students found a word they didn't know the meaning of while reading from the board. Coaches taught the students how to decipher the meaning of high-level words through critical thinking techniques.
Several students said the debate team has given them more confidence, as well as taught them reading, writing, and arguing skills. Londyn Booker, an eighth grader, says debate has taught her how to respectfully express her opinions and listen to the opinions of others.
Coaches Gyasi Gambrell and Taylor James say the goal of the team is to teach students that they can achieve anything they set their mind to. "Using their voice is a skill that will last a lifetime," Gambrell says.
When the pandemic began, Howard says he had a lot of time on his hands, which led him to reflect on his place in the world.
"I was in Kalamazoo, and I knew I wanted to come back home. Upon me reflecting on my own life, what created the Jerjuan that stands in front of you today, debate played a huge role in all of that," Howard says. "I was a quiet kid, but debate brought out somewhat of a leader in me, being able to stand in front of crowds and advocate and give speeches and all these other things, and so I wanted to give that back to Detroit youth."
Howard returned home to launch the Umoja Debate Team during the 2021-22 school year at his alma mater, John R. King.
In 2022, he expanded with the founding of Umoja Village. His organization purchased three lots that now feature a community garden, a little free library, artwork, and a stage for children to debate and the community to hold meetings.
Howard works as the Special Projects and Partnerships Coordinator for Detroit City Council President Pro Tem James Tate. He works with the District One Community Accountability Network, which focuses on reducing gun violence in the city. He also serves the Taskforce on Black Male Engagement, which aims to improve outcomes for African American men in Detroit in several core focus areas, such as community service, education advancement, career preparation, and health/disease prevention.
Howard says the degree of excellence that was expected from him and the family culture at John R. King, then Renaissance prepared him for his undergrad years at Western Michigan University and his career.
"I think that DPS grounded me, and it showed me excellence. It set up expectations for me. The family culture that John R. King produced for me; the teachers knew my parents, they knew my grandma, they knew my granddaddy, they knew my aunts, my uncles, I think that helped me out a lot and it prepared me for the real world," he says.
"I'm grateful for the education I got from Detroit Public Schools."