Return to Headlines
September Perfect Attendance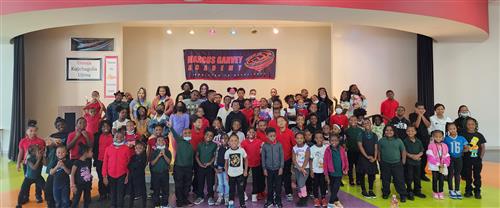 Everyday, all day, and on time! Creating a habit of good attendance helps students learn the future skills, persistence, and grit needed to show up every day for college and work. Students who are chronically absent (10 percent of the school year) also show reduced grade point averages and reduced scores in math, language, and science.
Mama Roper, our attendance officer, is helping to create this good habit within our students. Every week during Harambee, Mama Roper has an attendance raffle for students that have perfect attendance for the prior week. Students are able to win incentives, such as Garvey bucks, juice, chips, or candy. If a child has achieved perfect attendance for the whole month, they receive a goodie bag and certificate.
For the month of September, nearly a third of our student body earned perfect attendance. These students are: Hadeed Nasir, Jahil Alexander, Hailee Anderson, Aireona Eley, Lamont Tanksley, Kayron Brown, Titan Young, Makhi McDoralee Ross, Malaysia Cheeks-Morgan, Osadiaye Erharuyi, Ricky Inman, Skylar Jones, Journee Williams, Darryl Dixon, Lindsey Span, Jeremiah Gleason, Aaron Williams, Journei Gist, Quincy Kelly, Amir Williams, Kloee Graves, Caleb Griffin, Naashar Robinson-Jackson, Terrance Dunklin, Jr., Alyssa Perry, Gia Hall, Drea Williams, Jeremy Davis, Leila El Bey, Skylar Jarrett, Jacoby Gist, Brandon Hall, Angel Spencer, Ganesa Thomas, Clarence Fullilove, Enoch Glover, Jason Hall, Summer Jarrett, Da'mon Jones, Rosley Sweeney, Zoey Wright, Autumn Bolden, Kourtney Cochran, Holland Miller, Talia Primus, Jheramiah Smith, Caleb Studstill, Serenity Crooks, Majesty Moore, Tyler Primus, Lovely Spencer, Serenity Jarrett, ReShawn Myles, Marion Bell, Genesis Esters, Deondray Robinson, Titan Miller, Amir Sutton, Maria Cheeks Morgan, Makenzie Gibson, Zaria Jones, Lonell Price, Dylan Sutton-Johnson, Carter Taite, Geneva Thomas, Carter Thompson, Meria Williams, Amari Bell, Bennie Lewis, Tristian Smith, Rory'Anne Sweeney, Carelton Taite, Ja'Laya Woods, Eryka Austin, Ida Ballard, Shiloh Bell, Dean-Ginae Esters, Clinton Gary, Susie Jones, Tamare Moore, Khaleem Rozier, Zoe Scaife, Andre Williams, Dorian Ward, Dacinda Allen, Cynthia Flake, Makayla Miller, Samarhea Watts, Zarionah Jones, Mackenzie Ries, and Courtez Wellons.
Congratulations, students! Thank you, parents, for making sure your child is present everyday, all day, and on time!