Return to Headlines
Renaissance Students Share Their Experience Traveling to Japan
In late February, eight Renaissance High School students traveled to Japan for a week through the Japan International Cooperation Center's Kakehashi Project, an organization that helps build bridges between the U.S. and Japan by organizing seven- to 10-day trips for American students. 
Students arrived in Tokyo and visited Yokohama, Kyoto, and Shiga Prefecture. Students visited two schools, the International Manga Museum, the National Diet Building, the Imperial Palace, the Buddhist temple Mii-dera, and more. 
They learned about Japanese life, such as their visits to the temples of Japan's two major religions or their trip to the grounds of the palace where the Emperor of Japan and his family live. When visiting schools, students met with Japanese teachers and students, who showed them calligraphy, pottery-making, Japanese sword-fighting, and traditional games. 
Japanese Language and Culture Instructor Katharine Davis said the experience was designed to give students a lifelong connection to the country. 
"By visiting the country and interacting with locals, the students not only gain new knowledge about Japan and have unique experiences, but they also make meaningful connections with people they might never have met before," she said. 
We asked students to talk about their experiences in Japan. 
Describe Japan in 10 words or less. 
Ilana Williams: Fresh and orderly
Elize Smith: An advanced, clean, and polite paradise
Eric Macon: Beautiful conglomerate of naturalist and modern styles
Sakai Bradley: Universally loved
Brooklynn Harris: Beautiful, clean, respectful, and cultural
Raven Reno: The trip to Japan was amazing!
Ezra Keelen: One of the best places ever
Emani Williams: A rich and fantastic experience for everyone
What is one key highlight?
Ilana Williams: One key highlight would be the places we visited, we went to two different high schools, a Japanese home, lots of different restaurants, and everywhere in general.
Elize Smith: The homestay was the biggest highlight. Getting to see a Japanese home and talking to the parents and kids was my favorite part.
Eric Macon: A highlight was taking a cooking class with other students and experiencing their cooking.
Sakai Bradley: A highlight was the homestay and being able to see Japan through the eyes of people that live there.
Brooklynn Harris: Shopping
Raven Reno: One key highlight for me was the homestay. It was so cool to really be deep into the lives and homes of Japanese citizens and have them show us what their day-to-day is like.
Ezra Keelen: A highlight was staying with a Japanese family.
Emani Williams: Staying with my host family! Even after only half a day, I felt very connected to them.
Did you learn anything that surprised you?
Ilana Williams: I learned things about the history of Japan, and I learned that their streets are extremely clean because there are no trashcans or places to put trash.
Elize Smith: I was surprised to see that they drive on the left side of the road.
Eric Macon: I learned that the ceilings were that low and I had to duck more than I thought.
Sakai Bradley: I was surprised by simple etiquette at restaurants and not sitting in many chairs.
Brooklynn Harris: I learned that my host family farms strawberries.
Raven Reno: I learned a couple of things that surprised me. They have no trash cans at all outside!! Yet they still succeed at being a very clean city.
Ezra Keelen: I learned they don't eat while walking.
Emani Williams: The quality of life is much different in Japan than in America. There are certain amenities that aren't very common in America at all, like bidets in almost every toilet!
Do you have any advice for other students who are curious about studying abroad?
Ilana Williams: To keep pursuing what they want to, even when it looks like the goal is extremely far, the end result will be worth it all.
Elize Smith: Please be ambitious and put yourself out there! So many benefits come from traveling abroad in high school.
Eric Macon: I would say that they should have fun learning the language and it will make the experience of using it a lot more fun.
Sakai Bradley: Do it. You'll never forget it.
Brooklynn Harris: Take the risk! It's all about the experience.
Raven Reno: If you really want to study abroad, don't let money or fear stop you. It is an awesome experience, and everyone should get one chance in a different place.
Ezra Keelen: You should definitely try it, it's a great experience. Fun and educational.
Emani Williams: Be open-minded and experience it to the fullest!
What is one thing they had in Japan that you wish we had here in Detroit/Michigan/the USA?
Ilana Williams: I wish we had ice cream vending machines like they do! They were all over the streets, and I got to eat ice cream from them twice.
Elize Smith: They had a lot of accessibility for the visually impaired. On all sidewalks, there were bright textured areas that would help guide anyone who couldn't see. I wish we had that in Detroit.
Eric Macon: I wish we had softer croissants and bread stores.
Sakai Bradley: I wish the U.S. had less pollution and more inviting people.
Brooklynn Harris: I wish for better school food.
Raven Reno: A thing they had that I wish we had was automatic drink vending machines.
Ezra Keelen: Cleanliness
Emani Williams: More fresh fish! Although we do have fish in America, the fish in Japan was much fresher, and delicious every day.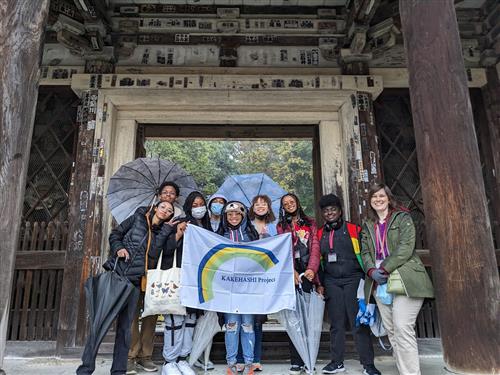 Written By: Laura Fitzgerald