Return to Headlines
Innovation Born out of Pandemic: DPSCD Student Creates Reflection Section to Support Others During COVID-19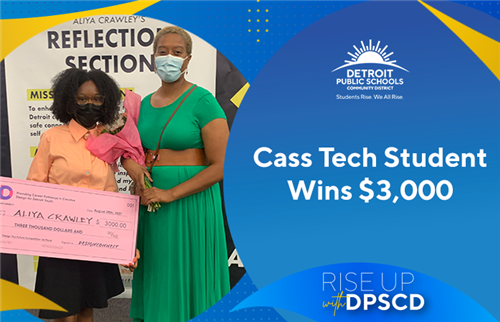 Aliya Crawley, a sophomore attending Cass Technical High School, is rising as a beacon of hope for mental wellness. The award-winning Detroit Public Schools Community District (DPSCD) student, Crawley created a Reflection Section to help others connect and find peace while socially distancing, yielding a $3,000 award as a first-place winner in the Design Our Future 2021 competition.

Crawley was an art novice prior to taking a Visual Arts class at Cass Tech. With the encouragement from her art teacher, Mrs. Barmore, Crawley dedicated her time, energy, and talent to create "Reflection Section," a form of socially distanced, outdoor seating. She said, the purpose of her environmental design is to help people connect and find peace. The opposite-facing seating would serve anyone who feels lost or lonely. She added, it would also foster a sense of togetherness by allowing people to see each other through mirrors while playing calming meditation music.

"I discovered my passion for art during the pandemic," said Crawley. "My work is prompted by both, social issues and past experiences. My mission is to enhance mental well-being throughout Detroit and other communities by contributing a space that provides a human connection through self-reflection."

The assignment for students this year was to design and identify a need for connecting, physically or emotionally due to the need to social distance because of the pandemic. Requirements also asked the student designers to choose one of five categories, fashion, entertainment, product, mobility, or environmental.

The competition was hosted by DesignConnect, a local organization founded by Jocelyn Chen, sponsored by DTE Beacon Park Foundation, programmed by Downtown Detroit Partnership. The program launched in January of 2019 at the Detroit School of Arts (DSA) and is dedicated to creating career pathways in design for students who are hoping to explore the industry.

"The DesignConnect program has elevated the District's visual arts program by placing it directly into the industry of engineering," said Dr. Lisa Reynolds, DSA Principal. "It has created endless possibilities for our students where they receive guidance, exposure and the necessary tools to advance and succeed in the industry. It's a game changer and we are so thankful for Ms. Chen and her vision."

This has been a game changer for Crawley. She formed a limited liability company, filed a patent, and is working with executives from Quicken Loans and Jocelyn Chen to turn her invention into a reality. She hopes to place the "Reflection Section" in open spaces throughout the city including the Avenue of Fashion, Belle Isle, Cass Park, and Palmer Park. After Aliya graduates from Cass Tech, she plans to study business and architecture at a Historically Black Colleges and Universities (HBCU's).

Click here to learn more about Aliya Crawley's Rise. We know when everyone does their part, students rise, we all rise.