Return to Headlines
DPSCD Senior Arise Rock Shines Bright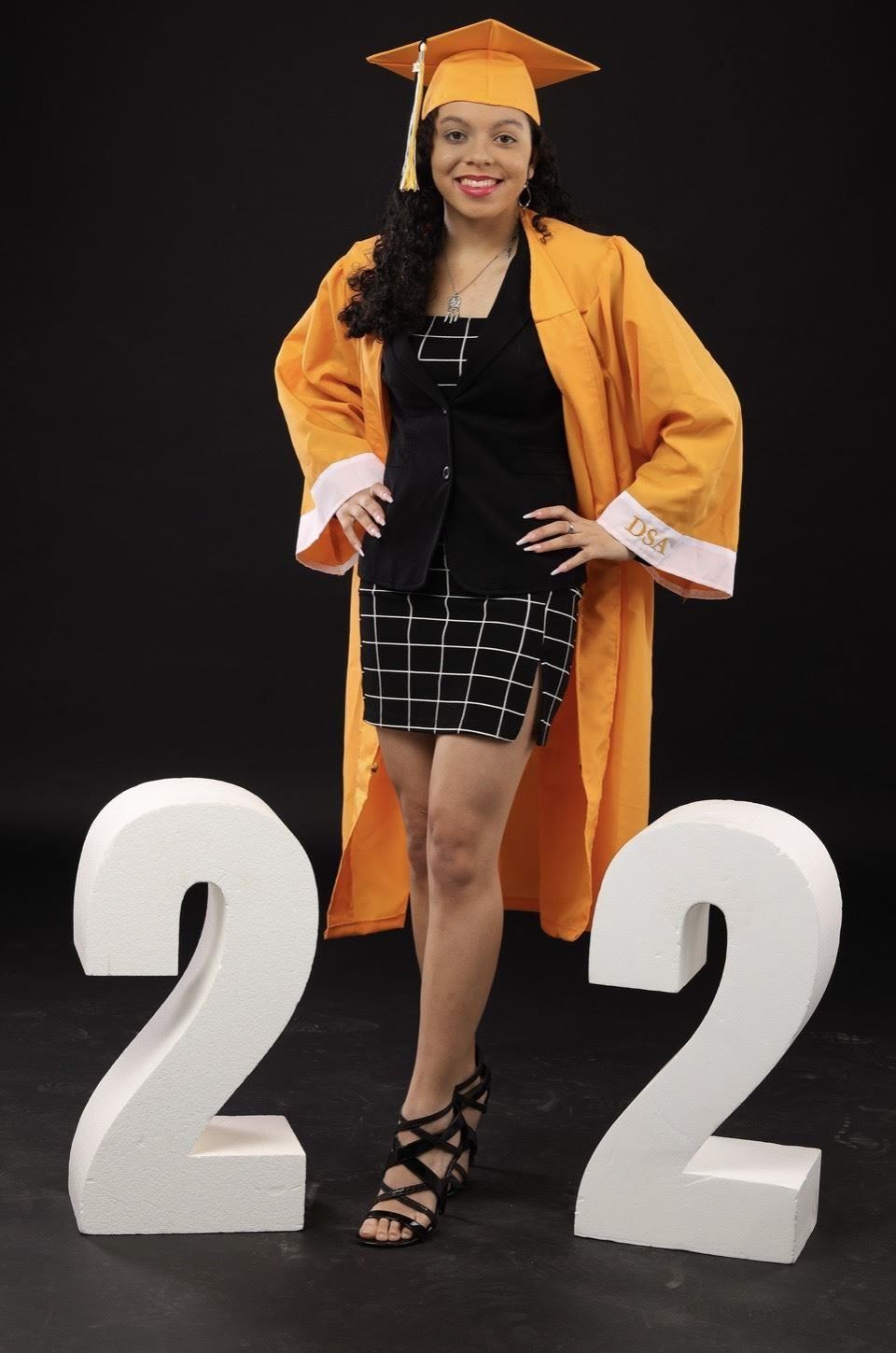 As we celebrate the DPSCD Class of 2022 this month, follow us as we share a series of profiles of our graduating senior students. Meet Arise Rock, one of two valedictorians, from DPSCD's Detroit School of Arts (DSA).
Shining In and Out of the Classroom
In addition to her strong academic record, Arise continues to shine bright by fulfilling her love of the theatre and the arts. She was involved in numerous aspects of theatrical production, including being a performer as well as leading and being behind the scenes with other production team members. Arise also sharpened her on-camera talents by participating as one of the Office of Communication's Student Reporters for the weekly Five Things You Need to Know news video during the 21-22 school year. You can see her reporting work by clicking the following links:
Five Things You Need to Know news video with Arise Rock November 1, 2021
Five Things You Need to Know news video with Arise Rock April 4, 2022
DSA and the Future
We caught up with Arise on the eve of her graduation and asked her to reflect on the time spent learning at DSA as well as to provide insight into her future plans.
Q: How do you feel as you prepare to graduate from DSA?
A: "I'm excited to have made it to this milestone in my life, and proud of all of us for making it through some of the most difficult years of our lives. Despite the COVID-19 pandemic and online learning that resulted from it, my classmates and I pushed through. We've made it to the end of our high school journey!"
Q: Will you miss being in high school?
A: "It's bittersweet- as one chapter closes, another begins. I'm ready to spread my wings and to continue to pursue my passion and love for the arts- specifically the magic of theatre. I'm proud of everyone graduating and wish them all the best!"
Q: Do you have any advice for undergraduates?
A: "Be yourself no matter what! DSA is a community where you should feel free to express yourself in whatever way possible. Remember to dream big, nothing is impossible if you put your head down and do the work. Whatever your passion is, don't give up on it. Finally, high school will go by faster than you think, live in the moment, and enjoy life. Don't spend your time worrying about the future or regretting the past."
Q: What are your plans for the immediate future?
A: "I will be attending Western Michigan University to attain a bachelor's degree in Fine Arts with an acting major."
Q: Any last thoughts? Who is your favorite theatre star?
A: "Yes. These four years have had their difficulties, but I've honestly grown so much, and I wouldn't change my experience for the world! As for my favorite theatre star, it is Lin-Manuel Miranda.
I am constantly inspired by what he produces. He has been one of my favorite theatre stars for several years now. I'd advise people who only know him from Hamilton, to check out some of his other works, such as 21 Chump Street (that's not a typo—it's 21 Chump Street) and The Heights. It is worth it."
Congratulations Arise! And, on her behalf, she wanted to use this platform to give a fist bump to all the teachers and administrators who loved, challenged, and prepared her for her future. Learn more about the programming and extra-curricular opportunities provided by DSA by visiting the school's web page. When Students Rise, We all Rise!