Return to Headlines
East English Village upsets Central for 2023 Softball Gold Championship
On Tuesday, May 23, at The Corner Ballpark, the Central Trailblazers sought their second straight PSL Gold Division Softball Championship against the East English Village Bulldogs. The Trailblazers came into this game undefeated, having defeated the Bulldogs earlier in the season.
Taking the mound for the Trailblazers was Jamilah Davenport, who is known for throwing strikes. Pitching for the Bulldogs was Shamari Chappell. Opening up the scoring for the game was Central's catcher and star player, Lanina Redman, who claimed a ground-rule double, then came home due to some fielding errors for the Bulldogs, giving Central an early 1-0 lead. Nadia Askew followed up with an RBI single, extending the Trailblazers lead with no outs in the inning. Mia Stewart scored another RBI single, giving the Trailblazers a 3-0 lead at the end of the first inning.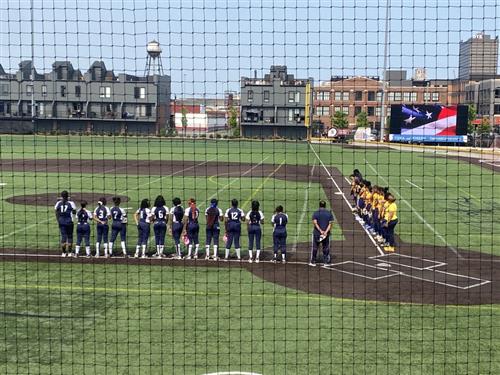 East English Village responded quickly as Katelin Hawkins earned an RBI with the bases loaded, cutting the lead to 3-1. Pitcher Shamari Chappell got an RBI single, making the score 3-2. With the bases loaded, Jamilah walked home a run to even it up to 3-3. Despite there being two outs, the Bulldogs were not done scoring in the second inning as Jamiah Womack nailed a 2-RBI single giving East English a 5-3 lead. Central was unable to respond after the five-run inning by the Bulldogs.
In the third inning, the Bulldogs continued their dominance as Jaidea Mcgowan landed an infield single with the bases loaded, giving the Ville a 6-3 lead. Due to some outstanding fielding from Janiyah Clerk, the Bulldogs were restricted to one run in the third despite having bases loaded with no outs. In the bottom of the third, Central began to mount a comeback as Laniya Barber got an RBI single, cutting the Bulldogs' lead to 6-4.
In the fourth inning, East English Village opened the floodgates with excellent hitting. Hawkins got them going with another RBI single with the bases loaded, restoring their three-run lead. Then, after a hit by Bentley and a fielding error by the Trailblazers, two more runs came in, giving the Bulldogs a 9-4 lead. McGowan brought in an RBI single as the Bulldogs continued to pour in the runs, making the score 10-4. Chappell continued her excellent night with a three-run inside-the-park home run making the score 13-4, absolutely stunning the heavily favored Trailblazers.
Due to the mercy rule, the game was called after four innings with the Bulldogs ending the run of the Trailblazers in amazing fashion, becoming the 2023 PSL Gold Division Softball City Champions.
The Player of the Game was Shamari Chappell who scored one HR, four RBIs and nine Strikeouts!