Return to Headlines
DPSCD Student Designs Float for America's Thanksgiving Parade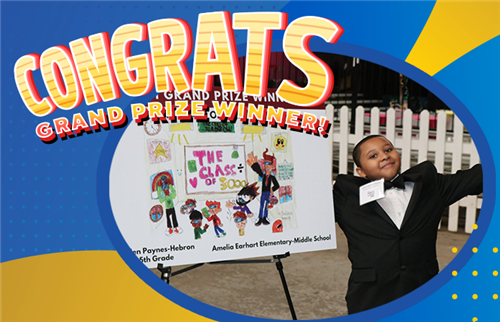 Detroit Public School Community District (DPSCD) is proud of Jaiden Paynes-Hebron, 5th grade, Amelia Earhart Elementary-Middle School, who is the grand prize winner of the 30th Annual Skillman Foundation Float Design Contest sponsored by The Skillman Foundation and The Parade Company. Jaiden and his family will participate in America's Thanksgiving Parade riding the float mirroring his drawing.

Jaiden's design, titled "The Class of Tomorrow," highlights his vision of a classroom that not only serves as a place of learning, but also celebrates friendship, fun, and culture. The float features students learning in a variety of ways and exploring a range of subjects including science, math, music, and art in both individualized and collaborative learning. DPSCD restored art and music in every school under the leadership of Superintendent Dr. Nikolai Vitti and our locally elected 7-member board.

"I am extremely proud of Jaiden," said Melissa Villarreal, Principal of Earhart. "He's an outstanding, smart and friendly young man. He is a great representation of a true Earhart Aviator. Keep on dreaming, Jaiden!"

This year's Skillman Foundation Float Contest theme, "My Dream Classroom," encouraged students to use their imagination to illustrate and share their vision of a perfect classroom. Hundreds of submissions were received from students across the city in grades 4 through 8.

Four DPSCD students of the five recognized were named as honorable mention winners, and their beautiful artwork will be displayed around the border of Jaiden's float. The students are:

• Charon Ewing, 5th grade, Hutchinson Elementary Middle School, "Art + Music Class"
• Christina Johnson, 7th grade, Spain Elementary, "Dream Classroom"
• Jamilyn Jones, 5th grade, Spain Elementary, "Cat Class"
• Vivica Toussaint, 5th grade, Bates Academy, "Astro Academy"
• Lizeth Jiminez, 5th grade, Cesar Chavez Academy Upper Elementary "Dream Class"

This contest enhances what students are learning in school preparing them for career and college, and in alignment with the District's Whole Child Commitment unlocking each student's potential.

Be sure to keep an eye out for Jaiden during the America's Thanksgiving Parade live on WDIV-Local 4 from 10 a.m.-12 p.m., November 25, 2021. Please share images and congratulatory remarks for our students through our social media channels with the handle @detroitk12.