Return to Headlines
Denby Students Set Stage for Classmates to Improve Reading, Writing Skills with Nonprofit Org Support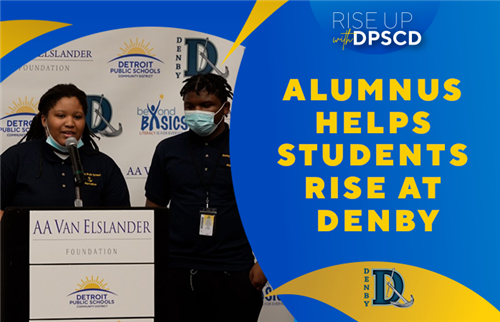 Powering through. That's what two Denby High School students, senior Unique Johnson, and junior Xavier Johnson, were able to do in their journey to dramatically improve their reading and writing skills, thanks to support from Beyond Basics, a nonprofit organization whose mission is to eradicate illiteracy.

While learning virtually during the pandemic, Unique improved her reading by six levels while Xavier was not far behind at four levels. And now, any Denby student who is facing similar challenges, are getting an opportunity to do what Unique and Xavier did, thanks to a generous $1.5M donation from AA Van Elslander Foundation to Beyond Basics.

The family of the late Art Van Elslander, more formally known as Art Van, the furniture store magnate and a 1948 graduate of Denby, wanted to ensure his legacy lives on through students who are provided with optimal literacy support. The gift will provide literacy resources and tutoring support as well as deepen comprehension, vocabulary and writing skills for 500 hundred Denby students, enough for every student in the building to be supported going forward. And those students can aspire to reach the levels set by Unique and Xavier.

"The program helped me understand words I've never seen before in my life," said Xavier, who shared his story at a recent press briefing announcing the gift. "My tutor helped push me with my goals and prepared me to understand the passages in preparation for the PSAT," he said proudly. Xavier hopes to go on to pursue his dreams of becoming a real estate mogul.
"Beyond Basics helped me tremendously. I learned new vocabulary words, how to read and write better, and I was able to understand and perform better on my exams", added Unique, an aspiring entrepreneur, who is designing her own clothing line and plans to fully launch after she graduates. "I believe Beyond Basics has helped prepare me because I realize that I am a lifelong learner. The program and my tutor taught me things I didn't know."

The school-based program will help students Rise Up with DPSCD in preparation for standardized testing, with 90% of students who participate achieving grade-level advancement within as little as six weeks but also with realizing their potential and bringing them closer to their dreams.

"What makes Beyond Basics unique is it is truly research-based, it gets at the heart of the problems with illiteracy, and it attacks it in a coherent, strategic, comprehensive way," said Dr. Nikolai Vitti, Superintendent of DPSCD. "Illiteracy is not the fault of the students. There are several factors that contribute to it. This program aligns with our literacy intervention reform. Through philanthropy, literacy lawsuit, and COVID Relief funding, we have been able to scale support for students."

Students who take advantage of this opportunity will be called Art Van Elslander Medallion Scholars. Upon completing the program, they will receive leadership training, a certificate, and a medallion inscribed with Mr. Van Elslander's motto, "It's not the hand you get dealt. It's how you play it."

The AA Van Elslander Foundation focuses on supporting children, health, and human services around the state of Michigan. The one-on-one, multi-sensory tutoring programs at Beyond Basics cultivates curiosity and encourages a love of lifelong learning. DPSCD is proud to partner with Beyond Basics. The program is currently in 10 schools, and we hope students continue to thrive as outstanding achievement is a district priority. To learn more about our high schools and career pathways, please visit detroitk12.org.