Return to Headlines
DPSCD's Celebration of Ability Awareness Month Culminates with Virtual Coffee and Conversation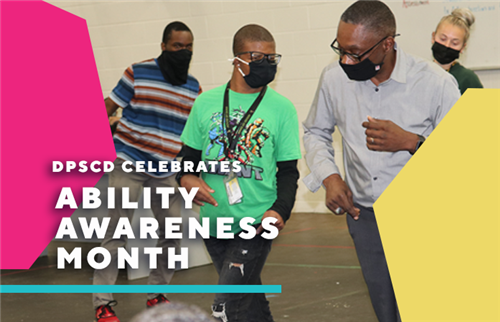 All month DPSCD has raised awareness and celebrated Ability Awareness month. You are invited to a culminating event on Thursday, October 28, 2021, themed, Virtual Coffee & Conversation: What Ability Looks Like. This event will be led by the Office of Exceptional Student Education (ESE), and the Office of Equity, Advocacy, and Civil Rights, designed to educate the public and highlight the facets of ability awareness. The first session of the virtual event will take place at 11a.m. and the second session will begin at 12 p.m.
"My dedication to serve my community doesn't end when I step outside of the classroom," said Darlene Dorsett, DPSCD's ESE Supervisor for the Deaf and Hard of Hearing. "No matter what disability I may be eligible for, my community has no boundaries." Ms. Dorsett, who is hard of hearing, will participate and explain more as a panelist for the upcoming virtual event.
While several learning disabilities affect cognitive ability, physical functionality, or both, they can also encompass an intellectual disability such as dyslexia. Other developmental disabilities such as Autism, ADHD, Down Syndrome, or Fetal Alcohol Syndrome can affect growth or cognition.
Myths and stereotypes often surround disabled persons, which result in the mistreatment and hurtful stereotypes. The term disability does not mean living a poor quality of life. It is often the negative attitudes of society and the lack of education within the community which contributes to this stigma. Individuals with disabilities are people first. According to the Learning Disabilities Association of America, people living with learning disabilities have above-average intelligence.
While addressing students last week at Denby High School, Superintendent Dr. Nikolai Vitti shared that he, too, struggled with reading even as a young adult.
"I am dyslexic. I want to ensure children with learning disabilities can get the help they need to be successful just as I did," said Vitti. "One of our core values is to put students first by making decisions that are in their best interests."
With a whole child approach, DPSCD is committed to unlocking the full potential of its students while enhancing their academic experience. This approach will also ensure that teachers have the necessary resources they need to help kids who struggle.
Rise Up with DPSCD in celebrating those staff and students who continue to flourish in their abilities. Don't forget to mark your calendars, invite a few friends and even family to the Virtual Coffee & Conversation: What Ability Looks Like. Visit www.detroitk12.org for more information.