Return to Headlines
Through Adversity King High School Football Team Wins it All
The Martin Luther King Jr. Senior High School football team is the embodiment of Detroit Public Schools Community District (DPSCD) Core Value of Excellence.
Let's check the tape.
Consecutive Division 3 Michigan High School Athletic Association (MHSAA) state football championships in 2021 and now 2022;
Another Division 3 state crown in 2018:
State football titles in Division 2 in 2015 and 2016
Yet there's more:
The state's Mr. Football winner in 2021 in quarterback Dante Moore, a five-star recruit who will play collegiately at the University of Oregon next fall.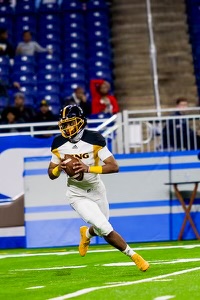 And still: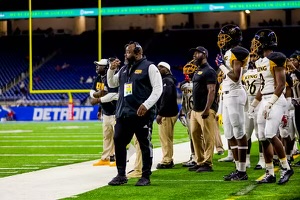 Head Coach Tyrone Spencer, named as the Detroit Lions High School Football Coach of the Year for 2022 on December 1, 2022, as well as being honored by his fellow coaches in the Michigan High School Football Coaches Association (MHSCA) as the Coach of the Year for 2022 this fall.
We talked with Coach Spencer, the epitome of a King man (his mother, an aunt and uncle all attended the school and he himself is a 2003 graduate), about winning the ship, his coach of the year honors as well as the role of DPSCD's athletic programming has in helping our students to rise.
Q: A repeat Division 3 state football championship, being named Detroit Lions High School football coach of the year for 2022 along with the MHSCA honor, winning a state championship as an assistant coach and three PSL championships, how does all this feel, Coach Spencer?
A: "It does feel surreal. I never really thought I'd get that honor as the coach of the year (he was a coach of the week in 2021). I'm really happy and excited. When you get these awards, it's not about me. It's all about the work that your staff puts in and the players. Even though it is an individual thing, these awards recognize our team and our program and our community."
Q: As we noted, you are a King graduate (class of 2003) with deep family and community roots in the school and its football program. What does it mean for you to continue to achieve at such a high level of success?
A: "It does mean a lot to have our program be where it is. I always want to represent our school well, make the alumni proud and have our players play with class and great effort, as well as represent DPSCD and our school community the right way."
Q: Repeating as a champion is challenging. Can you talk about the commitment and sacrifice it took for your student athletes, your coaches, school leaders, parents, and families to win the Div. 3 title again?
A: "This was the year of adversity. We had our field being redone. We were practicing at other locations, catching buses to get there," said Coach Spencer, noting that King played all its games on the road, except for one state playoff game vs. Brother Rice. "I commend our parents, players, coaches, and community. We overcame some losses, and we were able to bring it together, get the kids to trust in us and get to our goal, which was the state championship."
Q: DPSCD has a storied history in athletics. Can you talk about its importance to the District and the benefits our athletic programming has for our student-athletes?
A: "We know the community that we serve. Our Detroit area is a hotbed for sports. You see in our student athletes the attitude and mentality of being a hard worker on and off the field. Students come to our schools for the programming, whether it's STEM (Science, Technology, Engineering and Mathematics) or dual enrollment opportunities. When you have awesome sports programs, people will come to our schools for that, and I think that is something families can get from DPSCD."
Q: Is there anything else you want to add?
A: "I am proud of all our schools, Cass, Central, Southeastern and everybody else who made the playoffs. We want to continue to highlight our district and let people know that there are great, positive things happening in Detroit and that our students can do the very best."
Click the link to our Parent Hub to learn more about how your child can be part of DPSCD's athletics programming K-8 and High School Athletics.
Detroit Public Schools Community District, #TheFutureisRising!