Return to Headlines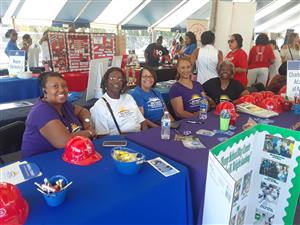 Detroit Public Schools Community District will kickoff the new year with a Back-To-School event open to all families, parents, students and the community. Every school will be in attendance offering families a great chance to meet school leadership, learn about programs and offerings, and talk with enrollment specialists to ensure your family is ready for the 2019-2020 school year. In addition, fun activities, games, food and giveaways will be provided while supplies last. Partners will provide immunizations, health screenings, exceptional student education support and much more.
Event Detail
Date: Saturday, August 17, 2019
Time: 10 a.m. – 2 p.m.
Location: Randolph Career Technical Center, 17101 Hubbell Street, Detroit, MI 48235
Activities
Archaeology in Action
Are You Smarter Than a 5th Grader Math Bee?
Asthma & Allergy Screenings
Building:Arts Instrument donation
Challenge the district Spelling Bee Champion
Chess Tournament of Champions - Challenge A Champion & Learn to Play
Dental Cleanings
Destination Imagination
ESE Sensory Activity Table
Farm Stand
Free books & giveaways (while supplies last)
Free food
Games - checkers, jenga, chess
Green Living
Immunizations
Learn Basic ASL
Let's Read volunteer sign-up
Maker Space – geometric shape building
Math Bingo
MI Seal of Biliteracy
Onsite Enrollment
Parent Academy sign-up
Robotics demonstration
Smoothie Bikes
Student Performance
Student Physicals (limited spots)
And more!
Transportation
Make coming to the Back-To-School expo easy for your family...TAKE THE BUS! DPSCD will be providing bus services from key high school locations throughout the city. Buses will pick-up families at each location and loop back to the same location throughout the day. Shuttle bus pick-up/drop-off signs will be posted at each school.
School Pick-up Schedule (approximate):
Pick-up: 10 a.m., 11 a.m., Noon
Return: 10:30 a.m., 11:30 a.m., 12:30 p.m., 1 p.m., 2 p.m.
Locations:
BENJAMIN CARSON HIGH SCHOOL OF SCIENCE AND MEDICINE
571 Mack Avenue, Detroit, MI 48201


CENTRAL ACADEMY AND HIGH SCHOOL
2425 Tuxedo Street, Detroit, MI 48206


EAST ENGLISH VILLAGE PREPARATORY ACADEMY
5020 Cadieux, Detroit, MI 48224


WESTERN INTERNATIONAL HIGH SCHOOL
1500 Scotten Street, Detroit, MI 48209
Parking
Families, parents, students and communty members may park in the surrounding school location general parking lots. A parking lot shuttle bus will be picking-up and dropping-off attendees through the event.