Return to Headlines
CONGRATULATIONS!
I was hoping you could add the below names to the website to highlight their accomplishment. They each won a $10,000 Harris Jones
Scholarship
. Their names are:
Andino, Wisdom
Coleman, Nia
Dent, Abria
Emokah, Ariana
Harlan, India
Mansfield, Tiara
Russell, Ama
Are you interested in learning the game, and joining our team. Please reach out to Mr. Thomas Howe on Teams.
__CONGRATULATIONS___
Mohammad for your acceptance into the Wayne Med-Direct Program!
congratulations to ct business Professional of america
Business Professionals of America Cass Technical High School 2021 Regional Leadership Conference 1st and 2nd Place Winners
Advisors: Gia Holmes and Ranesa Reese
Administration Support Concepts 1 - Alicia Gray 2 - Alexia Carroll-Williams
Advanced Interview Skills 1 - Lamont Satchel 2 - Georgia Travis Banking and Finance 1 - Jadelyn Chaney 2 - Aramis Hinds
Business Law and Ethics 1 - Taylor Saulter 2 - Amaya Padilla
Business Meeting Management 1 - Jennifer James
Business Spelling 2 - Tyron'aye Thomas
Economic Research Individual 1 - Adib Mahdiath
Entrepreneurship 1-Sa'Mia Walker
Financial Math 1 - Leah Jackson 2- Laila Mohammed
Fundamental Word Processing 1– Yasin Khan
Information Technology Concepts 1-Bianca Holsey
Intermediate Word Processing
1-Arlin Pineda
Interview Skills
1- Jecholiah Marriott 2- Damya Taylor
Legal Office Procedures 1- Antrice Marshall 2- Jadelyn Chaney
Management, Marketing and Human Resources Concepts1- Jacqueline Hudgins 2- Demonae Powell
Prepared Speech 1- Nazifa Kadir
Presentation Management Individual 1- Partho Das
Small Business Management Team
1- Rabika Ali, Niyah Elliott, Nazifa Kadir, Abib Mahdiath
Web Site Design Team
1- Ishrat Khan, Ifthihar Miah, Sadia Sultana, Sarna Sutradhar
OFFICIAL CLASS OF 2021 SENIOR MEETING
Are you ready to officially become seniors? Well, it's almost that time! There will be a class of 2021 senior and parent meeting Thursday, February 4, 2021 at 5 pm via Teams. Topics to discuss are Decision Day, prom, graduation, and etc. Hope to see you there!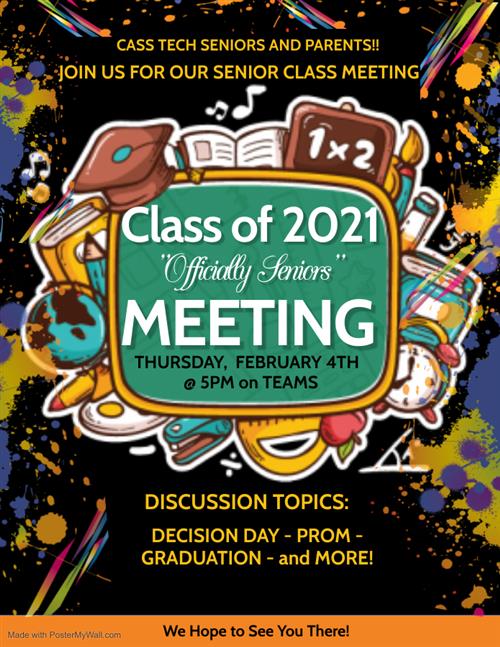 SENIORS! CLASS OF 2021
CT SENIOR QUOTES
The deadline to submit a Senior Quote is February 11, 2021. Senior Quotes are free. Senior quotes are a privilege. Therefore, you must follow the written guidelines on this form for your quote to be published. All quotes are subject to review by the school administration. Quotes that do not follow the written guidelines on this form will be rejected and will be excluded from the yearbook.
THE SENIOR QUOTE FORM CAN BE FOUND HERE: QUOTE FORM
GUIDELINES:
• All quotes must be limited to 65 characters/spaces total. Yes, spaces between words count as characters and need to be included. REVIEW QUOTE BEFORE SUBMISSION! NO REVISIONS!
• NO profanity. NO gang-affiliated words or phrases. NO drug or alcohol references.
• NO derogatory comments about other students or staff members.
• NO questionable/inappropriate content. NO sexually explicit content.
• All quotes are subject to review by administration and the yearbook staff. Failure to follow guidelines will result in the exclusion of your quote.
• If you aren't sure whether or not your quote will pass this review or if you have a question, you may ask a question BEFORE February 11, 2021. (Submit your questions to Leah Jackson at: leahjackson195@gmail.com)
• Due to the volume of students, questions WILL NOT be answered on FEBRUARY 11, 2021. Over 500 students will turn in quotes. Nearly all of those students will wait until the very last day to turn in their quote and nearly all of those students will have a question because they did not take the time to read these guidelines!!!
• You do not need to add quotations. We will add them for you.
• It is not required that you cite your quote. • Examples of quotes that will be rejected: "FRENDS4EVAWILLB2GETHA" "Westside 'til I die!"
• Examples of quotes that will work: "This wasn't like High School Musical at all." "She turned her can'ts into cans and her dreams into plans" "This is nothing but a hive, and I am the one and only queen bee." "It takes strength to be gentle and kind".
• Be creative and create something original and positive.
• Quote someone important to you: an author, a person, movies, television, book, etc.
• Reference something specific to CT or the program you are in. (Performing Arts, Business, Chem Bio, Communications, etc.)
• The best quotes are funny, ambitious, or inspirational quotes from published authors that inspire you.
• Make sure your quote is school appropriate and represents your school well. Remember, CT is your legacy.
_______________CT SENIOR DUES_____________
PACKAGE A: $170

Cap & Gown

Diploma and Diploma Cover

Graduation Ceremony

Senior Class Pin

Class of 2021 Yard Sign

PACKAGE B: $270

Yearbook

Senior Class Shirt

Graduation Ceremony

Senior Class Pin

Cap & Gown

Diploma and Diploma Cover

Class of 2021 Yard Sign

CLASS OF 2021 SENIOR DUES

HOW TO PAY YOUR DUES

· Credit Card OVER THE PHONE

· MAIL Cashier's Check/Money order

Make Cashier's Checks or Money Orders payable to: Cass Technical HS

Attention: CT Bookstore

2501 Second Avenue

Detroit, MI 48201

PAYMENT DATES

(Payments should be made on or before the due date)

1st Payment – October 30, 2020

2nd Payment – November 20, 2020

3rd Payment – December 18, 2020

DEPOSIT OF A MINIMUM OF $50 DUE BEFORE CAP & GOWN MEASUREMENTS (NOV. 4, 2020)

CREDIT CARD PAYMENT OVER THE PHONE ONLY!!

THE BOOK STORE WILL CALL YOU!!

CLICK THE LINK BELOW TO SIGN UP FOR THE BOOKSTORE TO CALL YOU FOR YOUR PAYMENT AND TO DROP OFF A PAYMENT!

*You MUST fill out the form before submitting a payment. Be sure to include your child's name, student ID number, and write senior dues on the money order/cashier's check. Please write legible.

MONEY ORDER DROP OFF HOURS

10am – 2pm South Lobby

Dates will be posted on Edmodo.

We want to ensure that someone will be available in the South Lobby.

PLEASE NOTE: Tickets for the Pinning Ceremony and Senior Prom are NOT included in the price for senior dues. If these events occur, those planning to attend must purchase those tickets separately.
_________________ Past Announcements__________________
Always find the morning announcements with Principal Philips, here every week:
Monday, October 19, 2020 Morning Announcements
Monday, October 26, 2020 Morning Announcements
Monday, November 9, 2020 Morning Announcements
Also Checkout this week's Weekly Notes:
(Find out whats going on daily, with links to event pages & lots more!
Weekly Notes for 10-19-2020 to 10-24-2020
Weekly Notes for 10-26-2020 to 10-30-2020
Weekly Notes for 11-9-2020 to 11-13-2020
Weekly Notes for 11-16-2020 to 11-20-2020