Return to Headlines
Beloved Teacher and Programming Fosters Student's Dreams at DPSCD's Golightly CTC (Career Technical Center)
One of the many renowned career pathways at Golightly CTC (Career Technical Center), is Hospitality and Food Services, also known as Culinary Arts. Anchored by Jill Snyder, affectionately known as Chef Jill by her beloved students, Snyder was recently named Michigan Teacher of the Year by ProStart, the educational foundation of the National Restaurant Association.
While supplementing her student's food safety education and culinary skills in a recent competition held by ProStart in Port Huron, Michigan, Jill received a surprise.
"When we walked into the hotel and convention center to register, I looked and there's this huge sign that has my name on it as Teacher of the Year," said Snyder, who admitted to being a bit shy about such notoriety. The foundation of her recognition is her selflessness toward her students and their families. Whether it was delivering food to their homes during online learning, purchasing cooking equipment as holiday gifts or fostering their career dreams, Snyder's affection for her students runs deep.
"I love the culinary arts, I love cooking and I love my kids," she said with a smile.
An 11th grader at Davis Aerospace Technical High School, with Jill's tutelage, Jonathan Dunnigan, recently earned a management certificate in areas that include food protection, testing, temperature control and several other disciplines. He now envisions taking his love for cooking and his drone piloting license to create a fully autonomous restaurant that uses robots for cooking and ordering while delivering the food to his customers via drone.
"I have a lot of dreams," said Johnathan quietly while in Golightly's kitchen. "I plan to use infrastructure and technology to bring my dreams to life."
While he prepares to be the next DPSCD (Detroit Public School Community District) legend, Jonathan said he is planning to take the second phase of Golightly's Culinary Arts curriculum with Chef Jill in the 2023-24 school year so he can benefit from her extensive restaurant industry experience as well as her personal warmth.
"My teacher is a great teacher, she (Chef Jill) is helping me strive toward my dreams."
Whether it is becoming a cook, a candy maker, or baker in the Culinary Arts or instruction in areas such as flight training, graphic design or welding, Golightly Career and Technical Center has something for everyone, so your student will be legendary. Click the hyperlinks to learn more about the programming at DPSCD's Career and Technical Centers (Golightly, Randolph and Breithaupt). Prepare for your future and learn more about CTC programs.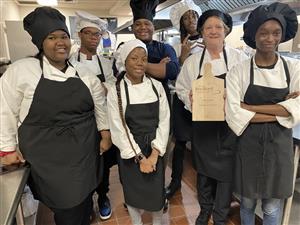 Chef Jill Snyder with several of her Golightly Culinary Arts students