Return to Headlines
Burns Community Resources
Welcome, Burns Community,
Burns has created a section just for their community partners. We would like for you all to come here for all relevant information in the Burns community. We will update the community resource section as we get new information. Please check back weekly for updated Flyers.
Are you a Detroit resident between the ages of 14-24 interested in a paid, summer experience? Express your interest by completing the online application at gdyt.org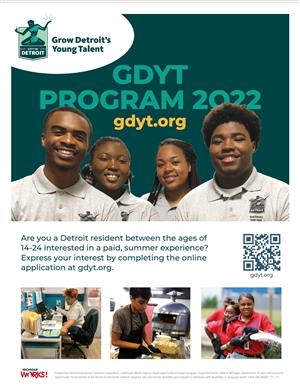 Thank you for agreeing to have your child attend the 2021-2022 Virtual Burns Good News Club sponsored by Child Evangelism Fellowship, Inc., Wayne County Chapter.
The Burns Virtual Good News Club will meet via ZOOM on Wednesdays starting February 9, 2022,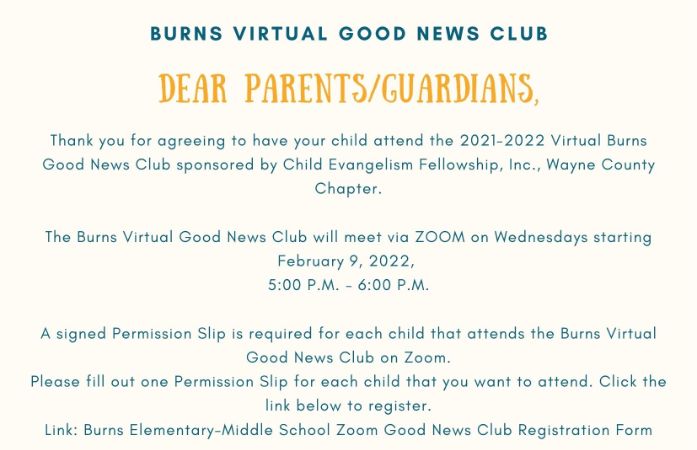 5:00 P.M. - 6:00 P.M.
A signed Permission Slip is required for each child that attends the Burns Virtual Good News Club on Zoom.
Please fill out one Permission Slip for each child that you want to attend. Click the link below to register.
From the Office of Family and Community Engagement (FACE). If you have a past due DTE bill or shut off notice, we can help pay up to $500.
**This assistance is ONLY Available for DPSCD - Detroit Public Schools Community District student residences.**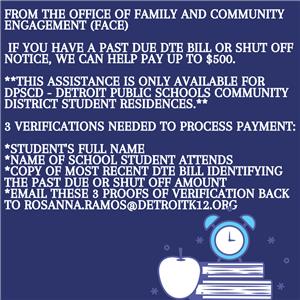 3 Verifications Needed to process payment:
*Student's Full Name
*Name of School student attends
*Copy of most recent DTE bill identifying the past due or shut off amount.
*Email these 3 proofs of verification back to Rosanna.Ramos@detroitk12.org
The Food Pantry at Word In Action Christian Center will be opened to serve the families of Burns Elementary Middle School. The WIACC food pantry is located at 19760 Meyers Rd. Detroit, MI 48235. Their phone number is 313-864-5300
180 Church presents Community Coat Drive (New Coats Every Sunday) KIDS ONLY!!! (NO ADULTS)
Detroit location:13660 Stansbury Ave 10:00am-11:30am
Pontiac Location: 30 E Montcalm Pontiac MI 1:30PM