Return to Headlines
Week of June 28, 2021
Gary Puhl
Exceptional Student Education – Project Manager/Operations Supervisor
Essential Skills Institute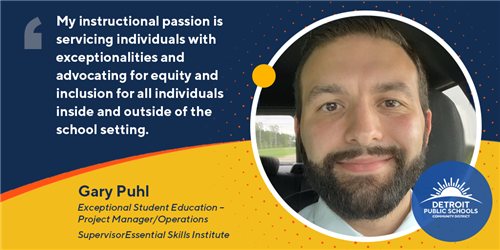 Tell us a little about our background?
I received my Bachelor of Arts in Elementary Education/Special Education from the University of Michigan, my Master of Arts in K-12 Educational Leadership/Special Education Administration from Grand Valley State University, and I am currently a Doctor of Education candidate at Central Michigan University.
What is your instructional passion?
My instructional passion is servicing individuals with exceptionalities and advocating for equity and inclusion for all individuals inside and outside of the school setting. I chose DPSCD because I began my career at Law Academy as a resource room teacher. I have worked in different districts, but I have not been to another district that is as deserving of such inclusive education and advocacy for students as those in DPSCD. The students, staff, and parents brought me back.
Week of June 21, 2021
Valerie Staten
Exceptional Student Education – ASD Teacher
A.L. Holmes Academy of Blended Learning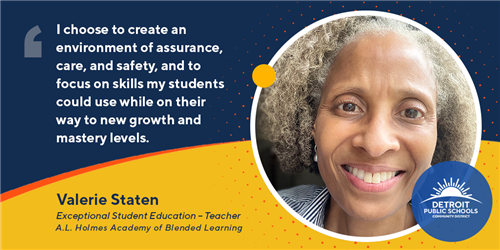 Tell us a little about our background?
In September 2008, I walked into White Elementary School to teach my first class of children with Autism. I was excited to see what students with Autism were like in real life just to learn – they were just kids, just kids with some differences. From White, I went to Nolan and from Nolan to A. L. Holmes Academy of Blended Learning. Every transition has been a smooth one and with every new class came a new flavor.
What is your instructional passion?
One of the first things I learned was to create an environment of assurance, care, and safety and to focus on skills my students could use while on their way to new growth and mastery levels by the beat of their own drum (and mine). That practice has been a mainstream of my career.
I take pride in helping students reach their goals, and this year, has been no different. Because of quarantine, ways were sought to present engaging lessons across the screen with paraprofessional and parent participation. Applications like PowerPoint and Nearpod proved to be winners to offer a more fluid, online presentation of the ASD curriculum and individual student goals. I have enjoyed ALL my years as a teacher of students with ASD. I was blessed to have worked with a marvelous team of colleagues and paraprofessionals. The students have all been unique and challenging too. This year, 2020-2021, was most memorable… a pandemic, quarantine, remote teaching, spending hours upon hours converting paper lessons to digital lessons, new online apps, and new students! George Evans said, "Every student can learn, just not in the same day or in the same way." Remembering that makes the ebbs and flows of teaching rewarding no matter what is encountered during that one day.
Week of June 14, 2021
David Hoopingarner
Exceptional Student Education
ASD Program Support Staff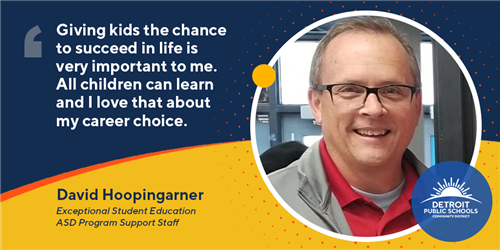 Tell us a little about our background?
Mr. Hoopingarner earned a master's degree in Adapted Physical Education from Western Michigan University, and has been a teacher with Detroit Public Schools Community District since 1992. He began teaching with DPSCD at Dexter Careers Center as their Adapted Physical Education teacher and Special Olympics coach. As a member of the ASD Program Office Support Staff since 1999, Mr. Hoopingarner provides additional Adapted PE support to students in ASD Programs classrooms district wide. He also has served as ASD Program Swim Instructor and has assisted with facilitating district wide ASD programming and Peer 2 Peer Unified activities.
What is your instructional passion?
I've been around special needs kids my entire adult life. From teaching a visually impaired young man to perform a high jump over a bar, to assisting a visually impaired young woman to shoot a basketball into a hoop that is 10 feet off the ground. All children can learn and I love that about my career choice. Giving kids the chance to succeed in life is very important to me.