Return to Headlines
Week of May 24, 2021
Nikeyta Eubanks
Exceptional Student Education
ASD Teacher - Coach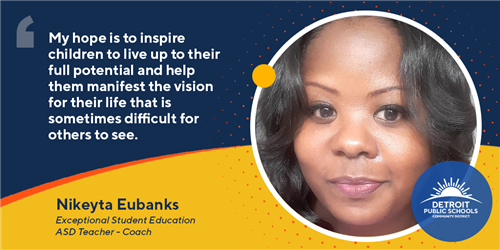 Tell us a little about our background?
I am excited to be back home as an ASD Coach! I have 19 years of experience working with students in all disability areas in various environments and capacities. I have served as a teacher/teacher consultant in a juvenile detention center and as a teacher consultant in a virtual education program for young adult students ages 18-26 that centered on community-based instruction. I started my career at Detroit Public Schools as a teacher in a self-contained cross categorial classroom.
What is your instructional passion?
My hope is to inspire children to live up to their full potential and help them manifest the vision for their life that is sometimes difficult for others to see.
Week of May 17, 2021
Kimberly Matlock
Post-Secondary ASD Teacher
Charles R. Drew Transition Center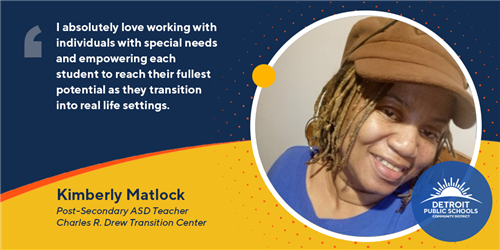 Tell us a little about our background.
I'm a certified Teacher of students diagnosed with Autism Spectrum Disorders. I also hold a master's degree in social work from Wayne State University, holding a limited license to practice. I'm currently teaching at Charles R. Drew Transition Center. I have 32 years of service with the District - all in Center Based Settings. Ten of those years I worked as a Paraprofessional where I was mentored by some very exceptional individuals.
What is your instructional passion?
I absolutely love working with individuals with special needs. In my classroom there is a heavy emphasis on daily living skills and real-life experiences. I particularly excel with students with more challenging behaviors because of my ability to assess the function of the behavior and understanding the need to be flexible and willing to accommodate or modify the environment to make it conducive to their learning styles and sensory need. Not to mention my incredible patience and non-judgmental approach to all students and staff. My goal is to empower each student to their fullest potential as they transition into real life settings.
Week of May 10, 2021
Tracy Arneau, Ed.S.
Bennett Elementary School - ESE Teacher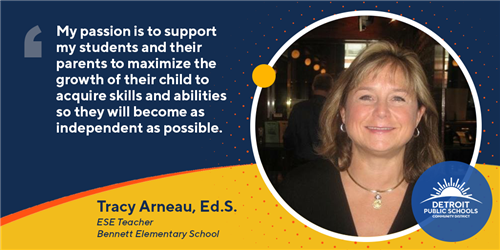 Tell us a little about our background.
I am a third-generation educator and have worked in the Detroit Public Schools/Detroit Public Schools Community District for almost 20 years. For the first several years I taught early elementary general education and for the last 14 years I have worked in the ASD department teaching preschool age children with autism. My academic achievements include a BBA with a concentration in Marketing from Walsh College, M.A.T. from Wayne State University, Educational Specialist in Early Childhood Curriculum and Instruction from Wayne State University and I have earned four educational endorsements. My professional accomplishments include having been on the board of the Metro Detroit Reding Council, participant in Moving the D Forward as a panelist, member of the Pi Lambda Theta National Honor Society and the Golden Key International Honor Society, Core Vocabulary Coach and workshop presenter at DPS/DPSCD.
What is your instructional passion?
Mrs. Arneau's passion for teaching student with autism is evident by the way she creates authentic relationships with her students and their families. She ensures that her instructional lessons include the diverse interest and supports needed for students, which helps to maximize their attentiveness and growth towards independence. Additionally, during this session of virtual instruction, Tracy has innovatively incorporated engaging and interactive ways for students to participate to the maximum extent possible.
Week of May 3, 2021
Marla Williams
Atkinson Elem.; Law Middle, Farwell Middle & Pershing High - Alumnus
Davison Elementary-Middle School - ESE Teacher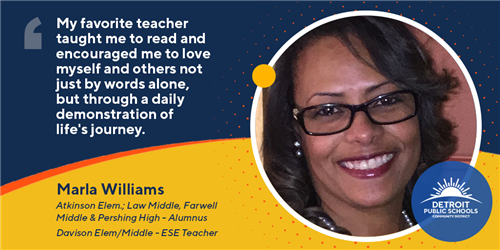 Who was your favorite educator as a DPS/DPSCD student and why?
My favorite educator was my first-grade teacher, Mrs. Johnson, at Atkinson Elementary School. She was very kind, loving, and patient. She set the tone for my career at an early age because she was so much more than an educator. She taught me to read and encouraged me to love myself and others not just by words alone but through a daily demonstration of life's journey. When I graduated from Wayne State University with my master's degree, my greatest gift was the moment I laid eyes on Mrs. Johnson in Macy's Department Store. The tears began to fall as I thanked her and shared my story of how she inspired me to become an educator. As we embraced, Mrs. Johnson told me she was very proud of me and I promised her that I would love my students and sow positive seeds into the lives of every child that enters my classroom. I can only pray that Mrs. Johnson witnessed Governor Gretchen Whitmer as she recognized me as a Detroit Public School Community District Teacher of students with special needs during her First State of State Address on February 12, 2019.
What has been your favorite experience as a DPSCD employee?
My favorite experience as a DPSCD employee is the opportunity of being invited to spend time with my students outside of the classroom. I have always used the enduring term "Classroom Family" when referring to my students and families. I believe as an educator of students who I have the privilege of educating for 1-5 years in my self-contained classroom deserve more than just a 7:30-2:40 teacher. I have been invited to birthday parties, family reunions, and baptisms. However, my most heartfelt moment was when one of my students broke his arm playing football, and when a nurse asked if there was anything he needed, his response was, "my teacher Mrs. Williams." The moment I received a call from his mom, I immediately went to the hospital, set by his bedside, prayed with his family, and encouraged them to move forward with their family vacation to Florida.
Why should someone join the DPSCD team?
I would encourage those seeking a career path who have a heart for children and desire to encourage them to flourish to join our DPSCD team. The rewards are not always tangible, but they certainly are rewarding if you love children and have a sincere determination to make a difference in their lives as well as those who hold them near and dear.