Return to Headlines
Week of March 22, 2021
Melanie Maxwell-Motton
Lillibridge Elementary, Bates Academy & Cass Tech Alumnus
Denby High School - ESE Teacher

Who was your favorite educator as a DPS/DPSCD student and why?
I had two favorite educators as a student. The first was my mother - Marilyn Peoples - who taught for 33 years at DPS. She taught me to be the best that I could be, serve others, and always remain faithful. My second favorite teacher was Ms. Dunn, my 12th grade ELA teacher. She was my favorite teacher because she taught me how to express myself in writing. She always pushed her students to go above and beyond with essay writing. She was simply the best.
What has been your favorite experience as a DPSCD employee?
My favorite experience as a DPSCD employee came from all of my experiences at Southeastern High School. This was the first school I worked at in DPS when I returned to Detroit from Colorado. The best principal in the district - Ms. Brenda Gatlin - served as my leader. She taught all of us to expand our vocabularies. She always encouraged us to push our students to work assiduously and fastidiously. For procrastination is not the way to reach your goals and dreams.
Why should someone join the DPSCD team?
DPSCD is an awesome place to work to develop your skills as a teacher. I learned most of my special education roles and responsibilities while working under the guidance of a great curriculum leader, Ms. Andrea Polley, while at Southeastern HS. If teachers want to learn about Detroit and what it means to live in this city, then our district is the place to be. Everyday we learn about Detroit and its citizens from the very people we serve - our students. The workshops and job-embedded learning experiences are always valuable tools offered by the district to help teachers to become greater every year in our craft. DPSCD is an institution of learning for all involved.
Week of March 15, 2021
Tyra Butler
Exceptional Student Education - Lead Administrator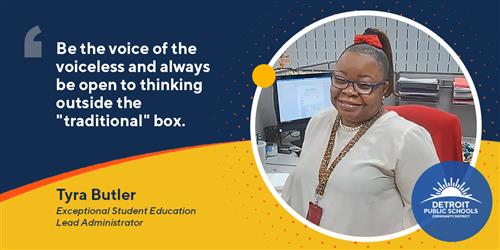 What excites you about Exceptional Student Education?
Supporting staff who support our most vulnerable population.
What motivates you to work in the ESE field?
Being the voice of those who feel voiceless.
What advice would you give to a college student who is considering going into the exceptional student education field?
Always be open to thinking outside the "traditional" box.
Week of March 8, 2021
Tracey Stuckey
Renaissance High School - Alumnus
Detroit Collegiate Preparatory High School at Northwestern - Math Teacher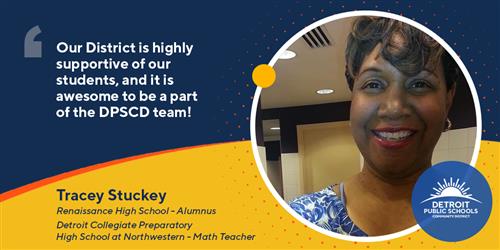 Who was your favorite educator as a DPS/DPSCD student and why?
Mrs. Margaret Estill was my 6th grade math teacher at Pelham Middle School. I learn a lot of mathematics from her and she was very supportive of me as a student. After changing careers from Engineering to Education, she was very supportive when I wanted to become a math teacher. At that time, she was a principal at Ann Arbor Trail Middle School; she was an awesome principal too.
What has been your favorite experience as a DPSCD employee?
I was honored by my student to accompany her to a banquet for high achieving students. I was also, included in the Who Who Among High School Teachers.
Why should someone join the DPSCD team?
The DPSCD team is an awesome district to be a part of and is highly supportive of our students. Our new mathematics curriculum is teaching students to learn material with rigor.
Week of March 1, 2021
Sarah Jardine ESE Program Supervisor - Adapted Physical Education and Special Olympics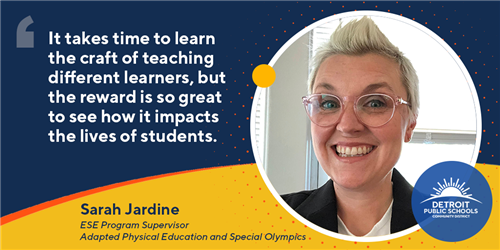 What motivates you to work in the Exceptional Students Exceptional field?
I would tell a college student to prepare for hard work but an incredibly powerful impact later. It takes time to learn the craft of teaching different learners, but the reward is so great to see how it impacts the lives of students.