Return to Headlines
Week of November 30, 2020
Paula Riser, ESE MOCI/SCI Supervisor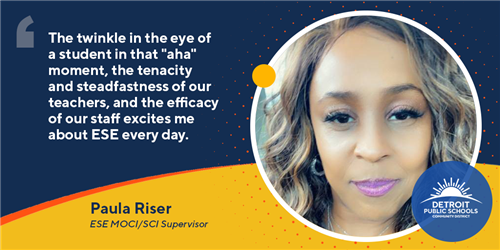 What excites you about Exceptional Student Education?
A few things that excite me about ESE are the twinkle in the eye of a student in that "AHA" moment and the joy that comes when you recognize that it's the little things that have the greatest impact; the tenacity and steadfastness of our teachers (new and seasoned); the love demonstrated by Building Administrators for their students and staff; and the efficacy of the ESE Department Central Office staff - working so diligently behind the scenes.
Week of November 23, 2020
Shantel Ross, DSA Master Teacher, Cass Tech Alum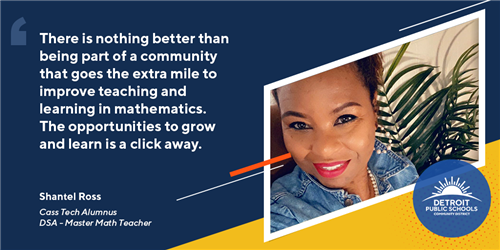 Who was your favorite educator as a DPS/DPSCD student and why?
My favorite high school teacher was Ms. Glen. She was my Spanish teacher. To this day, I can sing most of the songs she taught us and I can read and translate Spanish at a decent level. Ms. Glenn's class was very engaging. She spoke the language and had expectation for us to speak the language as well. Ms. Glen's was fun, exciting and challenging.
What has been your favorite experience as a DPSCD employee?
So far, my favorite experience as a DPSCD is being a part of the High School Math Team. The High School Math Team consist of a community of learners who go above and beyond to share their expertise during the days and even after hours. We learn from each other; grapple together and continuously find ways to sharpen our craft with a focus on student learning. I appreciate the space provided to us by the Office of Mathematics for the High School Math Team to come together and grow as educators.
Why should someone join the DPSCD team?
There is nothing better than being a part of a community that supports one another and goes the extra mile to improve teaching and learning in mathematics. The opportunities to grow and learn is literally a click and call away.
Week of November 16, 2020
Angelica Ramirez, ESE Lead Administrator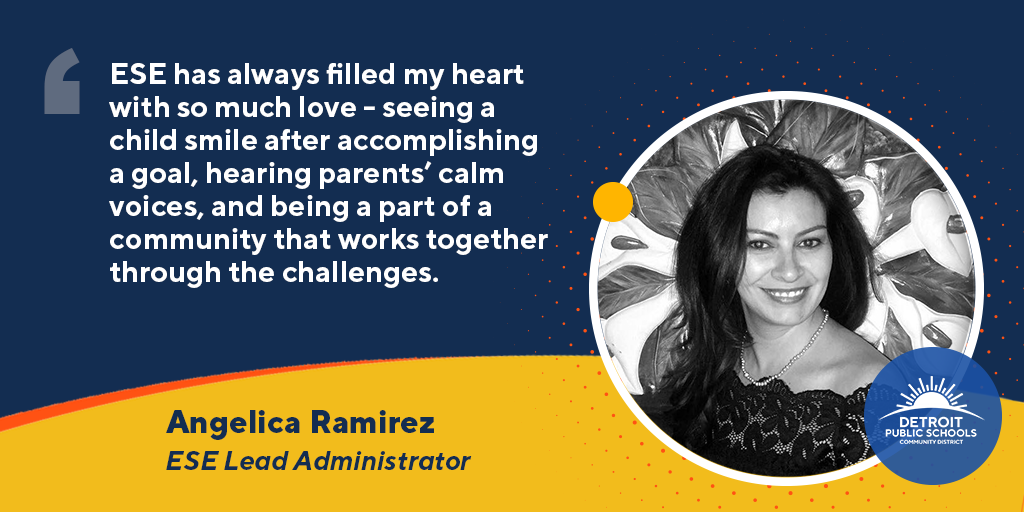 What excites you about Exceptional Student Education?
Exceptional Students Education has always filled my heart with so much love. I love seeing a kiddo smile when (s)he accomplished a milestone. I love hearing parents' calm voices when they feel at ease after understanding their needs. I love helping administrators, teachers, parents, students, and community members through the challenges they face. I love being a part of a team that works together to accomplish the goals set before us.