Return to Headlines
DPSCD Dad Does His Part to Help Children Rise: Systems are Key for Conquering Virtual Learning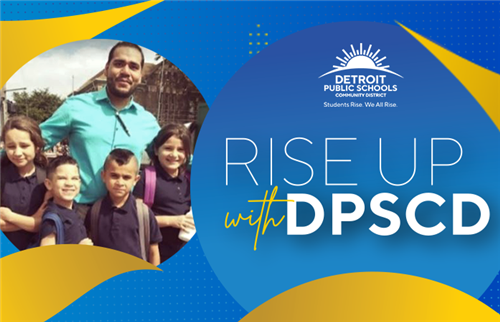 Detroit Public Schools Community District (DPSCD) students continue to share their words of encouragement on navigating the Virtual Learning experience. The Office of Communications spoke to a DPSCD father and volunteer, David Gutierrez, along with his five children, Abrianna, Amarissa, Joshua, Uriah, and Leonie, who all attend Maybury and Clippert. Here is what they had to say. 
Q: How do you stay motivated during virtual learning?  
A: I like getting good grades and getting a good night's rest helps me achieve that. – Amarissa Gutierrez, 11
Q: How do you stay engaged in virtual class and why is it important to do so?  
A: Learning new things helps me. What has also kept me engaged is that the teachers are actively calling on students for answers. – Joshua Gutierrez, 9
Q: What is your ultimate educational goal?  
A: My ultimate educational goal is to know everything about 3rd grade, so when I go to 4th grade, I can achieve the same. – Uriah Gutierrez, 8
Q: What do you enjoy about being virtual?
A: I enjoy doing my iReady. – Leonie Gutierrez, 6
Q: What advice and/or tips do you have for other students to stay motivated or engaged in their online coursework?  
A: My advice would be to put all distractions away and pay attention. This will help you focus and actively engage. – Abrianna Gutierrez, 12
Q: Are you looking forward to resuming in-person? What are you looking forward to the most? 
A: I look forward to my children interacting with their fellow classmates and participating with their teachers in person. I can teach my children what I can at home, but having them apply it outside of the home is most rewarding. – David Gutierrez
"As a single father of five children in five different grades, it was really tough in the beginning," said David Gutierrez, a dedicated DPSCD dad and volunteer. "There was constant confusion and at times my children weren't motivated to participate, which led to an academic decline. As time progressed, we formed a system that worked for us, allowing a productive approach to virtual learning. After establishing order, I was able to help more and challenge them academically throughout their school day."
The Office of Communications continues its series of student highlights to help students, parents, and teachers stay encouraged and engaged as they adjust throughout to the virtual learning platform during the pandemic. If you would like to share your experience, email Ms. Jaren Roberts at jaren.roberts@detroitk12.org.