Return to Headlines
DPSCD Student's Rise to 4.0 Demonstration of Commitment to Education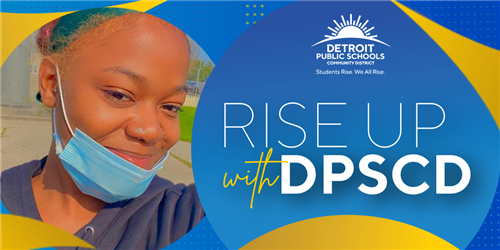 Students at the Detroit Public Schools Community District (DPSCD) continue to share words of encouragement on why it is so important to stay focused on their education in a virtual classroom setting. The Office of Communications spoke with Alaicha Wright, senior from Denby High School and this is what she had to say.
Q: How do you stay motivated during virtual learning?
A: I stay motivated by reflecting on my downfalls. Thinking about how I let myself down last year has motivated me to perform better academically (this year).
Q: How do you stay engaged in virtual class and why is it important to do so?
A: At times, it can be really challenging for me. Sometimes I find myself distracted and unfocused, but I keep telling myself that this is my last year of high school, and I can finish strong and graduate.
Q: What is your ultimate educational goal?
A: My goal for the school year was to achieve a 4.0 GPA. As of right now, I've reached that and I'm focused on maintaining it.
Q: What advice and/or tips do you have for other students to stay motivated or engaged in their online coursework?
A: Virtual school might feel like a break from the classroom and teachers, but just remember to stay focused and on top of your work. Don't fall off because you'll regret it. You'll think back, 'I should've just turned in that assignment'. I promise you that getting your work done and turned in on time will help you more than you think, because you won't have any extra weight or stress on your mind.
Q: Are you looking forward to resuming in-person? What are you looking forward to the most?
A: Yes. I really am. I'm just looking forward to being able to not have any distractions like being on my phone. I really like being in the classroom where we're given a choice to listen to music while we work. For me, listening to music helps me focus. While I work at home, it's just different and I feel very comfortable.
The Office of Communications is interested in learning how more students and teachers are adapting to Virtual Learning. If you would like to share your experience and lend a word of motivation to your peers, please email Ms. Jaren Roberts at jaren.roberts@detroitk12.org.