Return to Headlines
Students Rise During Virtual Learning: Education First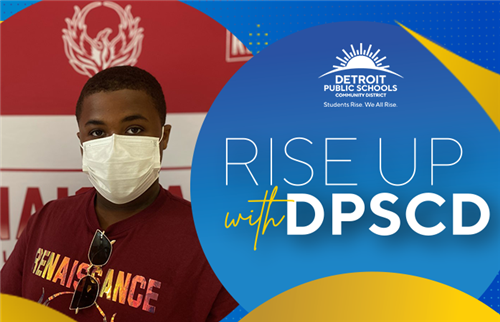 Detroit Public Schools Community District (DPSCD) students continue to share their words of encouragement on navigating the Virtual Learning experience. The Office of Communications interviewed Jeremiah Gill, freshman at Renaissance and here is what he had to say.
Q: How do you stay motivated during virtual learning?
A: One way I stay motivated during virtual learning is to always prepare for the next day. I might set out clothes to wear, even if we are online. I also tend to send happy GIFs or messages throughout my online classes to not only keep myself happy and motivated, but my peers too.
Q: How do you stay engaged in virtual class and why is it important to do so?
A: I stay engaged in my classes by interacting with everyone. Whether I am answering a question, asking a question, or just making small talk during a break. It is important to engage on the virtual learning platform because it gives me something to be excited about while keeping the virtual classroom etiquette.
Q: What is your ultimate educational goal?
A: My ultimate educational goal is to be able to learn and grow in the field of my choice which is currently Law and Political Science. I also want to use my knowledge to better my community and my fellow youth.
Q: What advice and/or tips do you have for other students to stay motivated or engaged in their online coursework?
A: My advice would be not to give up even though it may seem ineffective or not fun to attend class online. When you try to make the best out of a situation, the best part will be revealed. 
Q: Are you looking forward to resuming in-person? What are you looking forward to the most?
A: Yes, I am a major advocate for us going back to in-person learning while remaining safe. I am looking forward to seeing my peers and teachers face-to-face. I feel like the social aspect is what makes school fun and more educational.
This school year, Jeremiah was recognized by DPSCD Superintendent Dr. Vitti and the Board of Directors for sharing his thoughts on ways to improve the District. Dr. Vitti was impressed by his persistence in caring about the greater good of all students in the realm of education.
The Office of Communications continues its series of student highlights to help students and teachers stay encouraged and engaged as they adjust throughout the pandemic. If you would like to share your experience, email Ms. Jaren Roberts at jaren.roberts@detroitk12.org and don't forget that selfie!