Return to Headlines
DPSCD Students Rise Up with Fine and Performing Arts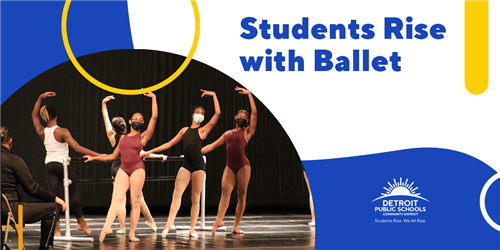 Detroit Public Schools Community District's (DPSCD) Office of Fine Arts organized a Master Class Lecture Demo with the Dance Theatre of Harlem (DTH) at the Detroit School of Arts (DSA), Renaissance High School, and Cass Technical High School on Wednesday, December 15. The Dance Theatre of Harlem will be performing at the Detroit Opera House January 22-23, 2022, and as a prelude to their arrival, they are conducting a series of performing arts education events with DPSCD.
This long-standing partnership between DPSCD and the Michigan Opera Theatre has dramatically improved the academic experience to ensure students are college and career ready, aligning with the District's priority of Outstanding Achievement.
"We have been in partnership with DPSCD for years," said Andrea Scobie, Director of Education, Michigan Opera Theatre. "We have always been proud of this as the District is one of our biggest, and most important partners to bring arts education to students all over the City of Detroit."
Students who participated in the Master Class Lecture learned about the rich history of Classical Ballet and the Dance Theatre of Harlem. They were trained in intermediate ballet techniques including rond de jambe, grand battement, tendus, and frappe.
Robert Garland, Resident Choreographer and Director of Schools at the Dance Theatre of Harlem led the class and is looking forward to reviving and deepening the Theatre's relationship with DPSCD.
"I want to thank the Michigan Opera Theatre for this amazing opportunity and partnership," said Dr. Lisa Reynolds, DSA Principal. "Our students received an unforgettable experience and gained more exposure to a world-class artform – ballet."
DSA's Pathways initiative offers a rigorous high-quality arts education at its four feeder schools - Brenda Scott, Duke Ellington, JR King, and Spain, seamlessly connecting the conservatory middle school graduates to their new high school in the heart of Midtown Detroit. The middle school students from the feeder schools saw first-hand the available opportunities as they progress as young artists on their path in the arts.
"Once I graduate from DSA, I want to become a professional dancer," said Ja'Niya Hughes, Senior at DSA. "Since I was a little girl, I have always admired the Dance Theater of Harlem. I enjoyed this experience because it was exciting and pushed me to become a better dancer."
DSA honors the talents of Detroit-area youth and provides an extraordinary program in an exceptional facility. It also supplies resources through a college-prep curriculum that maximizes student learning, motivation, achievement, and excellence by integrating artistic mediums and academic rigor.
DSA is currently accepting applications for the Fall 2022-2023 school year until tomorrow, January 7th, 2022, 11:59 p.m. DPSCD encourages students and families to Rise Up and find their heart in the arts by learning more about the application process and audition requirements. For more information, please contact Nicole Burrell at nicole.burrell@detroitk12.org, or call 313-494-6061.