Return to Headlines
Parents - Learn about your student's tablet and navigate online tools!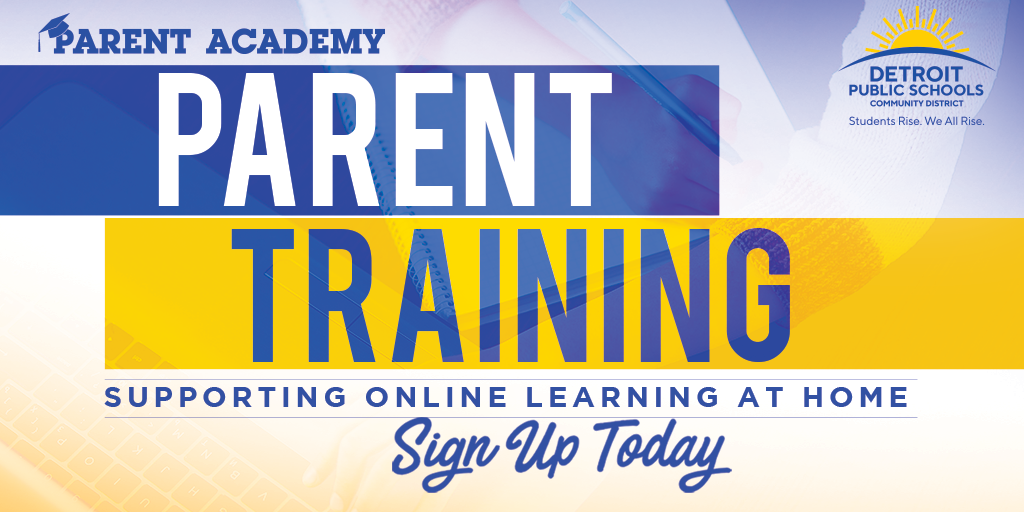 Attend an upcoming parent training session to learn how to best support your child at home as they participate in Online Learning for the new school year. We are providing both Face to Face and Online Parent Training Sessions.
By the end of the session, parents will be able to:
Assist with logging students on, basic navigation, device setup and use such as camera and keyboard, and basic internet troubleshooting
Navigate to the learning platforms that students will use and parent portal: Clever, Teams, Schoology and PowerSchool.
Download Flyer: DPSCD Parent Support Flyer
Face to Face Training Sesssions
Call (313) 873-7490 To Reserve space for limited socially distanced seating
Date
Time
Location
Friday, September 18, 2020
9:30 a.m. - 11:00 a.m.
Adult Education West
16164 Asbury Park, Detroit, MI 48235
Wednesday, September 23, 2020
5:30 p.m. - 7:00 p.m.
Brenda Scott Academy
18440 Hoover St, Detroit, MI 48205
Friday, September 25, 2020
9:30 a.m. - 11:00 a.m.
Western International High School
1500 Scotten Ave, Detroit, MI 48209
Friday, October 2, 2020
9:30 a.m. - 11:00 a.m.
Western International High School
1500 Scotten Ave, Detroit, MI 48209
Friday, October 9, 2020
9:30 a.m. - 11:00 a.m.
Adult Education West
16164 Asbury Park, Detroit, MI 48235

Online Training Sesssions
| | | |
| --- | --- | --- |
| Date | Time | Session Link |
| Monday, September 14, 2020 | 3:30 p.m. - 4:15 p.m. | https://bit.ly/3mbIesU |
| Tuesday, September 15, 2020 | 3:30 p.m. - 4:15 p.m. | https://bit.ly/33kaMrt |
| Wednesday, September 16, 2020 | 6:00 p.m -6:45 p.m. | https://bit.ly/2ZvrAL3 |
| Thursday, September 17, 2020 | 3:30 p.m. - 4:15 p.m. | https://bit.ly/2RloDbm |
| Saturday, September 19, 2020 | 11:00 a.m. - 11:45 a.m. | https://bit.ly/32kK2Yy |
| Monday, September 21, 2020 | 3:30 p.m. - 4:15 p.m. | https://bit.ly/3hk2Tr3 |
| Tuesday, September 22, 2020 | 3:30 p.m. - 4:15 p.m. | https://bit.ly/3imQdkD |
| Wednesday, September 23, 2020 | 6:00 p.m - 6:45 p.m. | https://bit.ly/2GPt8Jn |
| Thursday, September 24, 2020 | 3:30 p.m. - 4:15 p.m. | https://bit.ly/2GNolrP |
| Saturday, September 26, 2020 | 11:00 a.m. - 11:45 a.m. | https://bit.ly/2RvJ6ux |
| Monday, September 28, 2020 | 3:30 p.m. - 4:15 p.m. | https://bit.ly/3iAy9Up |
| Tuesday, September 29, 2020 | 3:30 p.m. - 4:15 p.m. | https://bit.ly/35oigfU |
| Wednesday, September 30, 2020 | 6:00 p.m - 6:45 p.m. | https://bit.ly/33k6e4t |
| Thursday, October 1, 2020 | 3:30 p.m. - 4:15 p.m. | https://bit.ly/3itphzS |
| Saturday, October 3, 2020 | 11:00 a.m. - 11:45 a.m. | https://bit.ly/2RhIicp |
| Monday October 5, 2020 | 3:30 p.m. - 4:15 p.m. | https://bit.ly/33kP4Uf |
| Tuesday, October 6, 2020 | 3:30 p.m. - 4:15 p.m. | https://bit.ly/3kdU2cb |
| Wednesday, October 7, 2020 | 6:00 p.m - 6:45 p.m. | https://bit.ly/2FcgofF |
| Thursday, October 8, 2020 | 3:30 p.m. - 4:15 p.m. | https://bit.ly/3hp6fcp |