Return to Headlines
Pilot Attendance Program Breaks Down Hindering Barriers to Prompt Excellent Attendance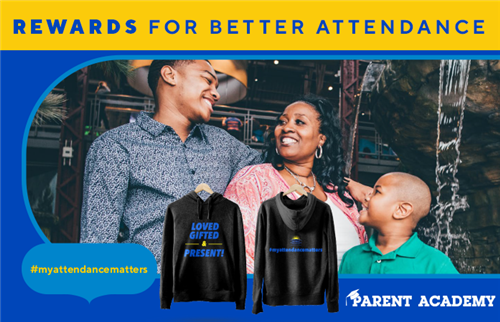 As of Monday, November 22, Detroit Public Schools Community District (DPSCD) has a pilot attendance rewards program at three of its schools, John R. King, Marion Law Academy, and Osborn High School, to remove barriers that prevent students from attending school. The goal is to increase attendance and support the success of students while connecting families to much needed resources.
The Rewards and Recognition for Better Attendance program awards students who improve absenteeism to excellent attendance by filling in gaps and incentivizing students and parents who need added support.
Students who improve their daily attendance are eligible for the following rewards:
3 days - $5 food gift certificate
5-6 consecutive days - $15 gift card
9 Consecutive Days - Home care basket or a DPSCD "Young, Gifted and Present" hoodie
Christmas - $50 Target Gift Card
"The families of John R. King are most grateful to participate in such a wonderful attendance program, that removes burdens and gives them something more to look forward to achieving," said Jennifer Spencer, Principal, John R. King. "This program offers many incentives such as bus cards, a washer and dryer to support daily living, and the opportunity for students to improve academically. It supports the entire family as a unit."
Bus cards and gas cards are available to parents who bring their children to school. Early pick-up support is also available upon request. Students who may be homeless or don't have regular access to a washer and dryer can use the machines available at their school.
"Chronic absenteeism is a complex issue rooted in both circumstances we can control like basic needs support, and those we cannot such as housing insecurity," said Sharlonda Buckman, Assistant Superintendent, Family and Community Engagement. "Our goal with this program is to continue to address the barriers we can eradicate through rewards and resources that are exciting to students while doubling as basic needs support."
Whether in-person or virtual, DPSCD encourages all students to Rise Up and attend school daily to get the most out of their academic experience. For more information about the program, call the DPSCD Office of Family and Community Engagement (F.A.C.E.) at 313-873-7490.